Happy Marker Geek Monday! If you're in the UK like me, shall we take a moment to sigh about our lost hour? 😉 Probably best to try and forget about it and concentrate on GNOMES while we adjust!

Colouring Gnome Beards:
I am loving the Gnome stamps from Stamping Bella, as you may have guessed. They are so appealing with their huge noses and cute hats. Plus, once you get used to colouring those beards, they are pretty easy to colour and create with.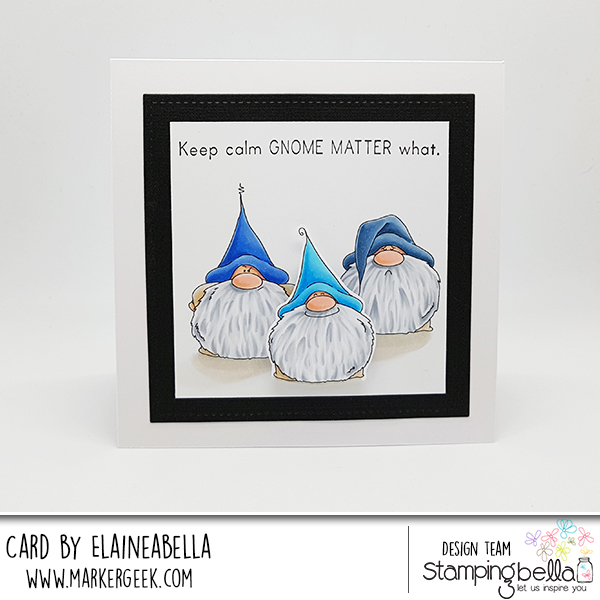 Stamp Set Used: Gnomes Have Feelings Too

Images stamped and coloured on Make it Colour Blending Card.
I don't usually do voice-overs for the videos I create for the release, showing how I coloured the product images for the website and packaging. I made an exception this time, as a few people have asked for tips on how to colour those big fluffy beards. It really isn't hard, so take a deep breath, watch the video for some tips and then get practicing!
Watch my video below to see how I did it, and hear some tips. Or, watch in HD over on YouTube.
I mention in the video that this isn't the only way to colour them, if creating hair-like texture isn't your thing, you could also use an approach similar to colouring the Stuffies images, creating a fluffy, plushie, teddy like texture. Try both approaches and see which you enjoy most! You don't have to stick to white beards either, in fact I'm thinking a rainbow beard might be fun. 😉
Readers in the UK/Europe: Tracy at Dies to Die For stocks Stamping Bella stamps and dies and at the time of writing has this set available on pre-order.
Thanks for stopping by!
I hope you have enjoyed today's post as much as I enjoyed creating it for you.
Don't want to miss out on future posts? Subscribe to my RSS feed in your favourite blog reader or subscribe via email using the form over in the sidebar.
If you want to keep an eye on what I'm colouring on a daily(ish) basis, follow me over on Instagram where I share frequent peeks at the colouring I'm doing along with other day to day snaps. You can also follow my page on Facebook if you'd like to connect over there.
Please note that in order to assist with the running of this blog I do use affiliate links from time to time and there may be some in this post, denoted with a *. Please see my About page for more information.