I've got a really cute and simple Stamping Bella card to share with you today, along with a video showing the entire card-making process from start to finish. I dusted off my Zig Clean Colour Real Brush Pens for this one too! Click on through to check it all out.

Dragon Encouragement Card using Zig Clean Color Real Brush Pens:
I love dragons, and the cute, ridiculously chubby Set of Dragons stamps released by Stamping Bella last year are just irresistible. I still love them just as much as I did when I first saw them. This little guy was perfect for a quick and cute card.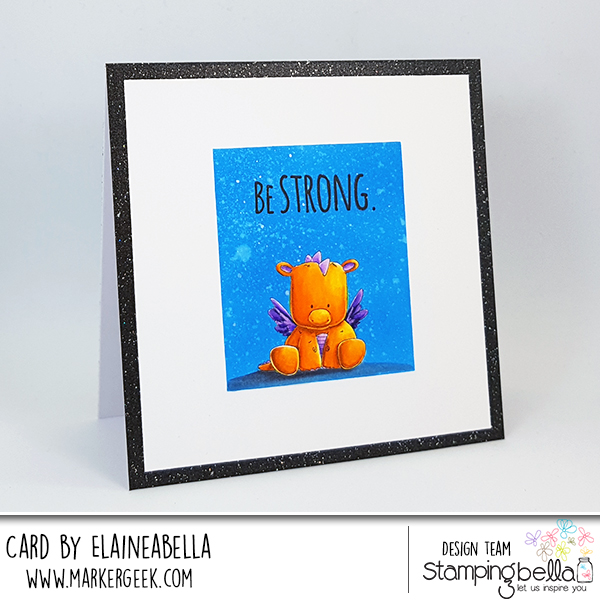 See? Irresistibly cute.
Stamping Bella Dragon Card Video:
Watch me put together my card and colour this adorable dragon in the video below or in HD over on YouTube.
Full colour details are provided in the video, along with a little commentary on how I put the whole thing together and a few of my thoughts on the Zig Clean Color pens.
Supplies:
UK/Europe Readers: Tracy at Dies to Die For stocks Stamping Bella stamps and dies. You can find the Set of Dragons HERE and the Dragon Sentiment set HERE.
Thanks for stopping by!
I hope you have enjoyed today's post as much as I enjoyed creating it for you.
Don't want to miss out on future posts? Subscribe to my RSS feed in your favourite blog reader or subscribe via email using the form over in the sidebar.
If you want to keep an eye on what I'm colouring on a daily(ish) basis, follow me over on Instagram where I share frequent peeks at the colouring I'm doing along with other day to day snaps. You can also follow my page on Facebook if you'd like to connect over there.
Please note that in order to assist with the running of this blog I do use affiliate links from time to time and there may be some in this post, denoted with a *. Please see my About page for more information.