Happy St Patrick's Day! I've got a fun scene card and video for you today, featuring the current Stamp of the Month at Stamping Bella – Irish Chicks! There's something a little different about today's video too…

What's New?
My main goal for 2017 was to find and purchase a house we could call home. Most of my energy went into that process, and we achieved that goal. There were a few hitches along the way, as there usually are, and we finally moved in to our new home in December. With that major goal out of the way, and with my new craft room/office set up how I've wanted it for so long, I've got more time, energy and space to work on things. It's time to be a little brave!
If you watch my colouring videos on YouTube, you will be aware that with the odd exception, I don't do voiceovers. The truth is, I'm not that chatty, and I'm not that confident. However, it is time to push the impostor syndrome aside, put my big girl pants on and get out of my comfort zone. Bear with me, we're going to have to go through fifty shades of awkward, but hopefully it will be fun. I promise you won't have to listen to me trip over my tongue on every video though. 😉
Irish Chicks Card:
Happy St Patrick's Day!
I absolutely love the Cool Chicks stamps. Stamping Bella have the absolute best chick stamps, filled with character and humour. If you haven't picked it up yet, you can currently get the Irish Chicks stamp set at Stamping Bella with a 25% discount until the end of March 2018 as it is the current Stamp of the Month offer!
I was totally inspired by the current Stamping Bella Wonderful Wednesday guest designer Kelly Latevola. I've been watching Kelly's videos for the last few months, and she has been a big help in me relocating my crafty mojo. I used to love creating and colouring stamped scenes, but with one thing and another found myself stuck in a bit of a rut. Binging on Kelly's back catalogue of videos over December and January has me excited to play again. When she created her first guest project for Stamping Bella, I just had to go and play with my own twist. Here it is!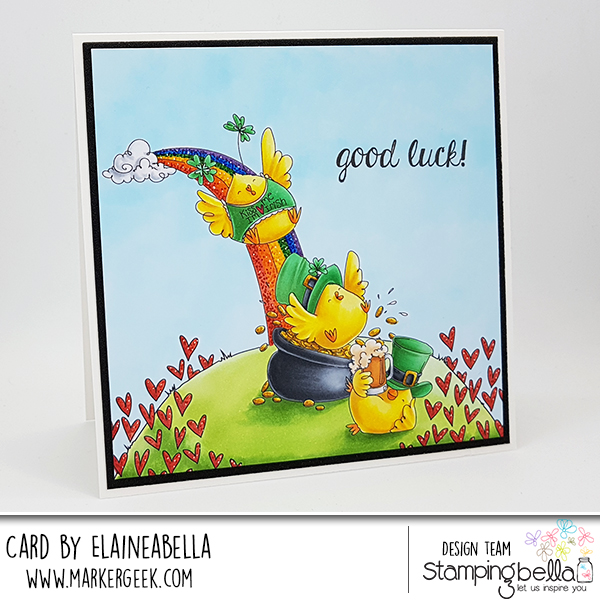 I of course, coloured the scene with my go to – Copic markers. The scene was stamped and coloured on Make it Colour Blending Card. I also added my current favourite touch of sparkle using atYou Spica Glitter Pens * and a Sakura White Gelly Roll Pen *. The "Good Luck" sentiment comes in the Irish Chicks stamp set.
Irish Chicks Scene Copic Colouring Video:
Watch me colouring the full scene in the video below or in HD over on YouTube.
Full Copic details are included in the video, but here's a list for easy reference.
Copic Markers Used:
Sky: B000,B00 Rainbow: R17,YR07,Y17,G07,B06,V17
Cloud: C00,C3 Grass: YG11,YG13,YG17
Chicks: Y11,Y08,E11 Beaks/Feet: Y38,YR07
Coins: Y13,Y17,YR23,E57 Pot: C4,C6,C9
Shirt/Hats: G03,G05,G07 Glass of Beer: C00,C3,YR14,YR27, E50,E53
Hearts: R17,R46

Thanks for stopping by!
I hope you have enjoyed today's post as much as I enjoyed creating it for you.
Don't want to miss out on future posts? Subscribe to my RSS feed in your favourite blog reader or subscribe via email using the form over in the sidebar.
If you want to keep an eye on what I'm colouring on a daily(ish) basis, follow me over on Instagram where I share frequent peeks at the colouring I'm doing along with other day to day snaps. You can also follow my page on Facebook if you'd like to connect over there.
Please note that in order to assist with the running of this blog I do use affiliate links from time to time and there may be some in this post, denoted with a *. Please see my About page for more information.