I hope your week is off to a good start! I've got a little "no line" colouring fun to share with you today, so keep reading!


Tiny Townie Sweet Pea – No Line Colouring
Firstly, my apologies, there is no video for this one. I just sat down for some no pressure, completely relaxed colouring time over the weekend, and boy was I overdue for that! It has been a while since I did any "no line" colouring, so I thought I would play and reacquaint myself with the process. I'm going to spend some more time playing over the next week or so and will put together a video for you soon!
In the mean time, I have previously posted a step by step guide to the process which you can find here: Marker Geek Monday No Line Colouring featuring Susie the Succulent
I love little Garden Girl Sweet Pea, she's so sweet, and such a nice image to colour. She works nicely for no line colouring, as there aren't too many tiny detail areas to work around. I stamped her using Inkon3 Fadeout No Line Detail Ink, this is the first time I have used this particular ink, and I was really happy with it.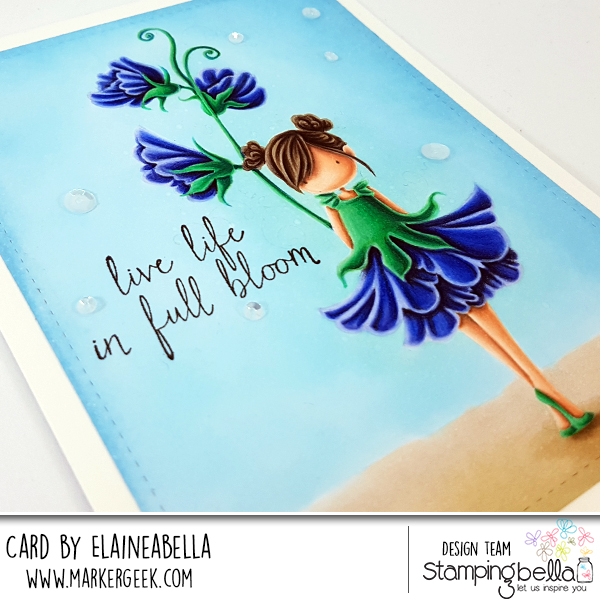 I coloured her using Copic markers, followed by Faber-Castell Polychromos coloured pencils to add some extra shading and refine some of the details.
Copic Markers Used: Sky – BG000,BG10 Skin – E000,E01,E11,E13 Hair – E44,E47,E49 Leaves – G12,G02,G05,B95 Petals – B60,B63,B66,BV25 Ground – E40,E42,E44
Polychromos Pencils Used: Throughout – Dark Sepia, White Skin – Cinnamon, Lt Flesh, Ivory Hair – Van Dyck Brown, Ivory Leaves – Prussian Blue, Deep Cobalt Green, Chrome Oxide Green Fiery, Light Phthalo Green Petals – Indanthrene Blue, Cobalt Blue, Light Ultramarine
Distress Inks in Tumbled Glass and Antique Linen were used around the edges of the die cut piece.
Supplies:
UK/Europe Readers: Tracy at Dies to Die For stocks Stamping Bella stamps and dies.
Thanks for stopping by!
I hope you have enjoyed today's post as much as I enjoyed creating it for you.
Don't want to miss out on future posts? Subscribe to my RSS feed in your favourite blog reader or subscribe via email using the form over in the sidebar.
If you want to keep an eye on what I'm colouring on a daily(ish) basis, follow me over on Instagram where I share frequent peeks at the colouring I'm doing along with other day to day snaps. You can also follow my page on Facebook if you'd like to connect over there.
Please note that in order to assist with the running of this blog I do use affiliate links from time to time and there may be some in this post, denoted with a *. Please see my About page for more information.