Today I've got a little "then and now" to show you, featuring a Make it Crafty digital image I coloured back in 2012, which I coloured again a couple of weeks ago! I think it's fun to do this from time to time, so read on and see the results!

Where have I been?
Before I get into today's post, (which I have been planning to write for a couple of weeks now, and am just getting to * giant eye roll* ) a quick "Hi, it's been a while!".
I have lots of video footage to edit, and things to share. What I haven't had is the energy to prepare and share those videos, photos, and posts. I've been busy working on the next Stamping Bella release, and I also came down with a horrible cold. A cold. In summer. SO. RUDE. I'm just about getting over it, but for the past few days have been enjoying a lovely migraine. It has been a pleasure. Enough whining though – I'm good, I'm just on a bit of a go-slow. More videos and fun are on their way – I just need to get my groove back. On with today's topic!
Why look back?
Have you ever felt a little stuck, maybe a little dissatisfied with what you're doing? I think we all have, at least from time to time. I know I experience this often.
Revisiting past work can be a fun and enlightening experience. We can take a trip into the past and see what we were up to, what we enjoyed at the time, and remember that part of the journey. That in itself can be rewarding. It can also serve as an important reminder to find the joy, experience the process, and keep learning.
Recently I have been feeling stuck in a rut. Over the past couple of years I had been focused on preparing to buy a new home, finding a house, the process of buying a house, moving, and the apparently never-ending de-cluttering. Add to that my work for Stamping Bella (which I absolutely love), and other "life stuff", I haven't been doing much experimenting, playing, or learning. I've been pretty firmly in my little box, doing what I do, trundling along. Sometimes, that's just what we have to do to keep going. Then suddenly, it's time to break out of the box and get excited again.
While sorting out more boxes from the move (yes, still), I came across one of my folders of coloured images. I used to be fond of printing digital images at larger sizes, often A4 (21.0 x 29.7cm), because I absolutely love colouring hair. Colouring hair was my therapy. Saturated Canary and Make it Crafty images were my favourites (I still love them), partly because of all the hair, and partly because I do enjoy a challenge.
I found this Make it Crafty image in my folder, coloured back in 2012.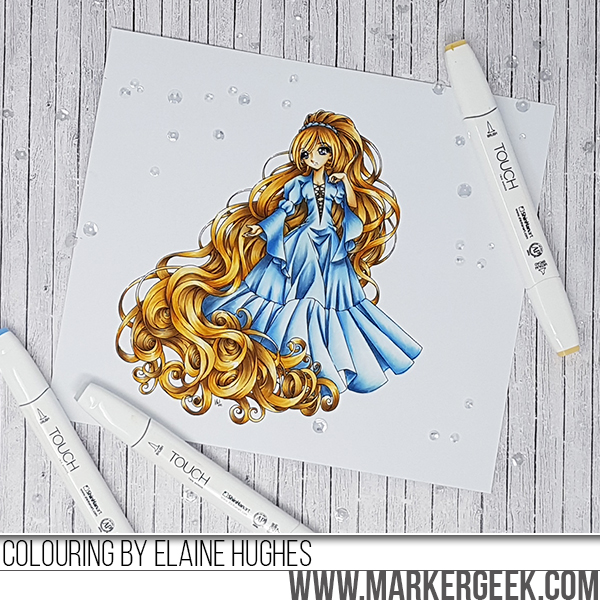 All that hair. Oh my. I smiled, remembering how much I enjoyed the challenge of tackling all that hair, and that dress. I actually coloured this image using Touch Twin Markers – I was on their design team at the time. I may also have been on the Make it Crafty team at that point. Lots of fun, lots of colouring, and lots of crafty friends.
I originally posted this image here on the blog in this post: Fairytale Hair. I'm not sure if it was the lighting at the time, or if I scanned the image, but her hair seems to be quite a different colour in the original post. It could be that there has been some fading over time, although she hasn't been out in the light. Interesting!
The most interesting thing I noticed was in my reaction to the image. I didn't immediately start to criticise "past me". The associations were all positive, I found myself remembering the fun I was having, the enjoyment of challenging myself, of learning and being immersed in the process.
It had been quite some time since I coloured an image in this style, and at this size. I decided to challenge myself to take the time to play and revisit this image. I've done this before with other images, and it is always fun to see the results.
The 2018 version!
If you follow me on Instagram you may have seen the colouring process for this one in my stories over there.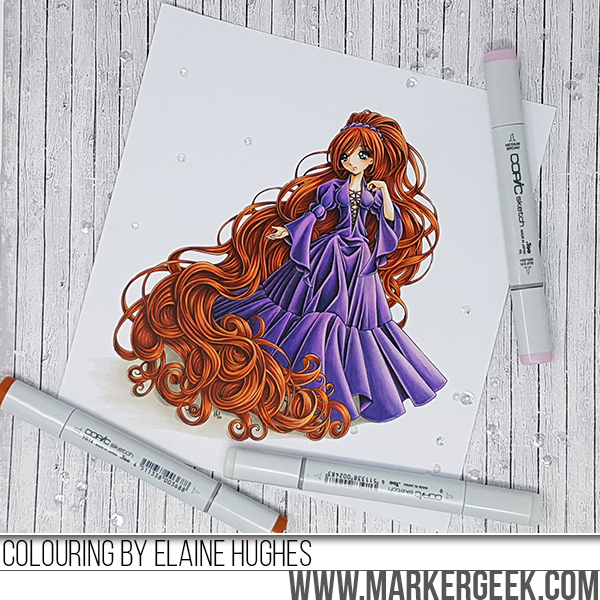 This time I tackled the image using Copic Markers, with some Faber-Castell Polychromos pencils to refine the details and finish it off. I also printed her slightly larger than the original.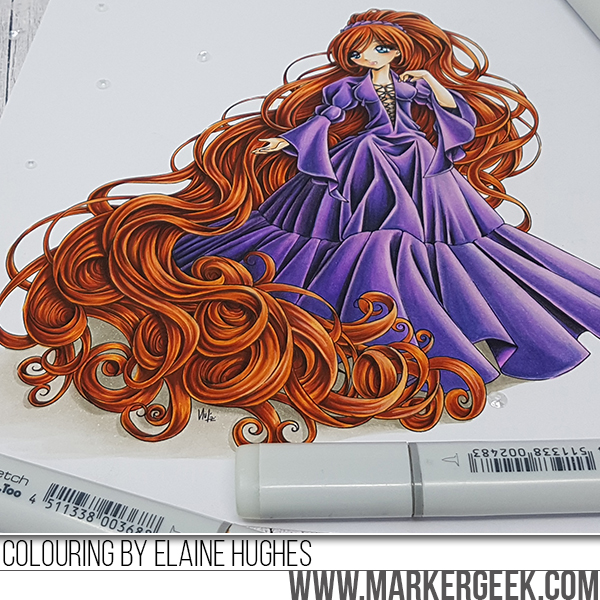 Copic Markers Used:
Skin YR000,YR00,YR01,RV02 Lips R32 Eyes B000,B02,B63
Hair YR14,YR18,E09,W4 Dress V12,V04,BV02,BV04,BV25
Faber-Castell Polychromos Pencils Used:
Hair Dark Sepia, Indian Red, Terra Cotta, White
Dress Black, Dark Sepia, Violet, White
What did I take away from this?
Looking back sometimes helps you to move forward.
Colouring masses of long, flowing hair is still highly therapeutic for me.
I absolutely need to make more time for doing this!
Supplies:
Thanks for stopping by!
I hope you have enjoyed today's post as much as I enjoyed creating it for you.
Don't want to miss out on future posts? Subscribe to my RSS feed in your favourite blog reader or subscribe via email using the form over in the sidebar.
If you want to keep an eye on what I'm colouring on a daily(ish) basis, follow me over on Instagram where I share frequent peeks at the colouring I'm doing along with other day to day snaps. You can also follow my page on Facebook if you'd like to connect over there.
Please note that in order to assist with the running of this blog I do use affiliate links from time to time and there may be some in this post, denoted with a *. Please see my About page for more information.