Are you as excited as me? I hope so! The entire Summer 2018 release is now available to order, and even better… In honour of our Chief Bella Emily's birthday there is a store-wide discount code which will give you 15% off your order! New stamps AND a nice discount. Run, don't walk!
You can find all of the new stamps under WHAT'S NEW on the website!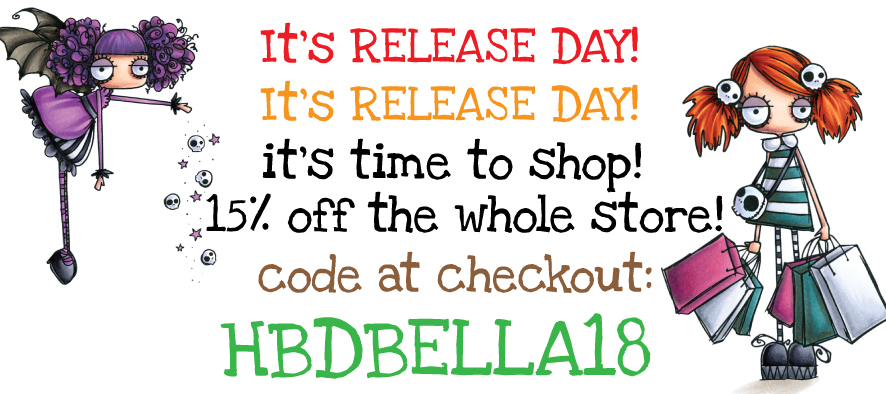 When you're done shopping, pop back and read the rest of this post for some more new release colouring videos to get you inspired!
I'm still uploading the colouring videos for the new release, and will be publishing them every day this week until they are all done! Here are today's, plus the entire playlist so far.
Oddball Nurse Copic Colouring Video:
Watch me colour our ecstatic nurse in the video below or in HD over on YouTube.
Baseball Squidgy Copic Colouring Video:
Watch me colour our adorable batter in the video below or in HD over on YouTube.
Stamping Bella Summer 2018 Playlist:
Alternatively, you can settle in and watch all of the colouring videos in the playlist below or in HD over on YouTube! This playlist will update as I publish the remaining videos.
Thanks for stopping by!
I hope you have enjoyed today's post as much as I enjoyed creating it for you. Be sure to visit the Stamping Bella blog for more inspiration from the Bellariffic Babes and a chance to win a voucher!
Don't want to miss out on future posts? Subscribe to my RSS feed in your favourite blog reader or subscribe via email using the form over in the sidebar.
If you want to keep an eye on what I'm colouring on a daily(ish) basis, follow me over on Instagram where I share frequent peeks at the colouring I'm doing along with other day to day snaps. You can also follow my page on Facebook if you'd like to connect over there.
Please note that in order to assist with the running of this blog I do use affiliate links from time to time and there may be some in this post, denoted with a *. Please see my About page for more information.