Fall Window Scene featuring Tiny Townie Layla
In the new Stamping Bella Holiday 2018 release there are a couple of new stamp sets that offersome great options for creating fun seasonal card designs. The FALL WINDOW STAMP SET and WINTER WINDOW STAMP SET both include two sizes of the same window design, and a sentiment to go with them. In the release samples we saw some beautiful card designs featuring the larger version of each as the main focal point.
Note: UK/Europe readers, the new releases are available to order at DiestoDieFor now!
The mini versions are great to use on smaller cards, on tags, or even better, to create scenes! Emily's vision was that these stamps would work to set the scene for our character stamps, and today I'm pleased to share how beautifully they work for this purpose. I opted to play with the Fall Window set, and an older but still utterly gorgeous character stamp – Tiny Townie Layla loves Leaves.
I'm a little nutty, so I decided to give myself an extra challenge and stamp my scene in a light ink to do some "no line" colouring. I also wanted to go for a more muted, storybook look, so I tried to create a softer look with my pencil colouring.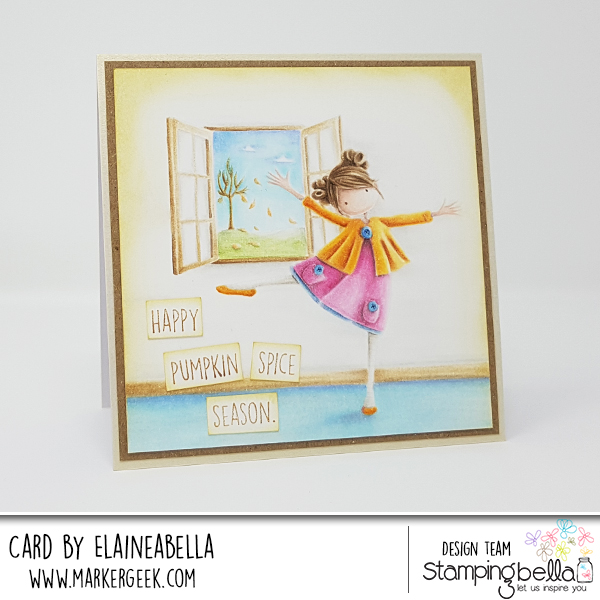 The sentiment I used comes with the new Oddball Scarecrow stamp set.
I coloured the scene using Faber-Castell Polychromos pencils and Sansodor blending solution.
I hope this has given you a little inspiration for using the new window stamp sets! Tell me – which other characters do you think would be perfect in a scene like this? Give me some suggestions for a scene using the Winter Window set!
Thanks for stopping by!
I hope you have enjoyed today's post as much as I enjoyed creating it for you.
Don't want to miss out on future posts? Subscribe to my RSS feed in your favourite blog reader or subscribe via email using the form over in the sidebar.
If you want to keep an eye on what I'm colouring on a daily(ish) basis, follow me over on Instagram where I share frequent peeks at the colouring I'm doing along with other day to day snaps. You can also follow my page on Facebook if you'd like to connect over there.
Please note that in order to assist with the running of this blog I do use affiliate links from time to time and there may be some in this post, denoted with a *. Please see my About page for more information.