This week I've switched things up and gone for a Christmas card featuring the new Stamping Bella Oddball Snowman stamp. I thought this would also be a great time to remind you of some tips for colouring white!


Oddball Snowman Card
Here's my card. The image was stamped using MFT Extreme Black ink on Make it Colour Blending card, then coloured with Copic markers and finished off with some Tim Holtz Seasonal Chit Chat word stickers.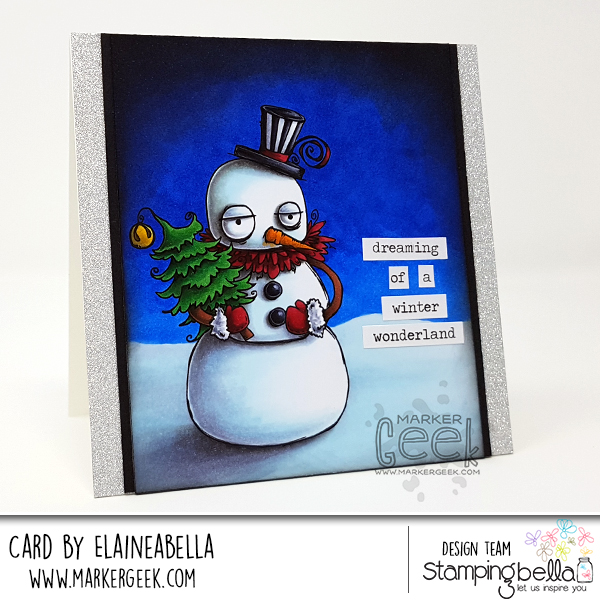 Stamp Used: Stamping Bella Oddball Snowman also available in the UK/Europe from Dies to Die For HERE.
As you can see, I added some fairly dark shadow areas on my snowman and the ground around him, but they still appear "white". Don't be afraid to play with your markers/pencils/whatever your preferred medium, and try adding darker shadows to white objects, especially if the rest of your image has strong colours.
Copic Colours Used
Body/Ground: B0000,BV20,BV23
Nose: YR16,YR27,E47
Hat/Buttons: BV25,BV29,100
Arms:E17,E47
Bell: Y15,Y26,E87
Tree: G07,G19,BG99
Scarf/Gloves: R35,R37,R89,G99
Sky: FB2,B29,B99
Tips for Colouring White
You can read some tips and info in a blog post I created a while ago, here: MARKER GEEK MONDAY – SOME TIPS FOR COLOURING WHITE.
Copic Colouring Video:
If you missed it, you can watch my colouring video for the version of Oddball Snowman seen on the stamp packaging below or in HD over on YouTube.
Thanks for stopping by!
I hope you have enjoyed today's post as much as I enjoyed creating it for you.
Don't want to miss out on future posts? Subscribe to my RSS feed in your favourite blog reader or subscribe via email using the form over in the sidebar.
If you want to keep an eye on what I'm colouring on a daily(ish) basis, follow me over on Instagram where I share frequent peeks at the colouring I'm doing along with other day to day snaps. You can also follow my page on Facebook if you'd like to connect over there.
Please note that in order to assist with the running of this blog I do use affiliate links from time to time and there may be some in this post, denoted with a *. Please see my About page for more information.