I've been waiting to share today's card for a while. I created it straight after I bought the stamp set home from the Dies to Die For pop up shop, but it sold out fast and I wanted to make sure it was available again before I shared my card!

Santa's Sleigh Ride Christmas Card
I pretty much fell in love with the entire September release from Mama Elephant – I've got a few more cards that I've been waiting to share with you, so look out for more very soon!
As soon as I saw this set I knew I wanted to create a night sky scene, so I looked at some of my older cards and decided to recreate a favourite from 2016. If you'd like to see the original card and watch the video I created to go with it, you can visit that post HERE.
Here's my card: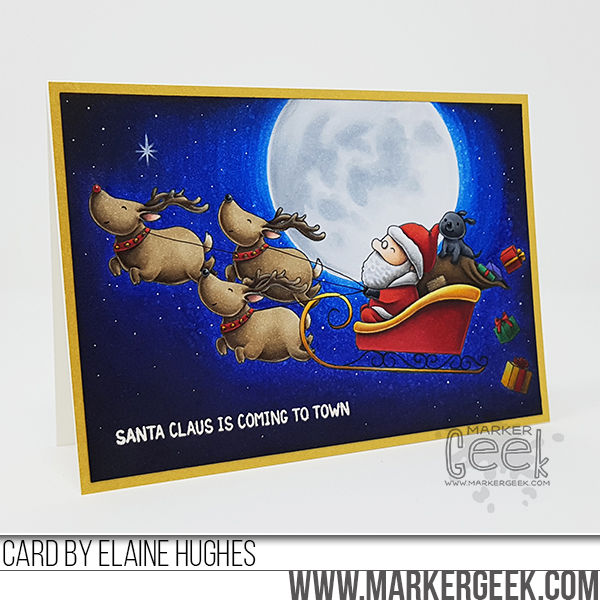 Stamp Set Used: Mama Elephant Santa's Sleigh clear stamp set
I created masks for the reindeer and Santa in his sleigh, so I could stamp them together in a little scene. I also created a mask for the moon using a circle die, so I could easily preserve that area when colouring with my Copic Markers. I added the reins using a black fine liner at the end (while holding my breath).
Colouring Details:
My scene was stamped using MFT Extreme Black ink on Make it Colour Blending Card for colouring with Copic Markers.
I coloured the whole scene using Copic Markers (for tips on the background visit THIS POST), followed by some deepening of shadow areas on the images using my Dark Sepia Polychromos pencil, and a little Distress Ink in Black Soot to tidy up the edges of the background.
Copic Markers Used:
Santa E000,E01,E11,E04 R24,R46,R59 C00,C1,C3,C4,C6,C9
Reindeer E43,E44,E47,E49 R30,E04
Sleigh R24,R46,R59 Y13,Y17,YR24
Sky FB2,B29,B69, C10,BV08
Moon C00,C1,C3
I love how this turned out! It might just be my favourite Christmas card so far this year, perhaps I should quit while I'm ahead. 😉
Thanks for stopping by!
I hope you have enjoyed today's post as much as I enjoyed creating it for you.
Don't want to miss out on future posts? Subscribe to my RSS feed in your favourite blog reader or subscribe via email using the form over in the sidebar.
If you want to keep an eye on what I'm colouring on a daily(ish) basis, follow me over on Instagram where I share frequent peeks at the colouring I'm doing along with other day to day snaps. You can also follow my page on Facebook if you'd like to connect over there.
Please note that in order to assist with the running of this blog I do use affiliate links from time to time and there may be some in this post, denoted with a *. Please see my About page for more information.