I've been playing with those Stamping Bella Oddballs again!

I had some fun masking and stamping a little scene, which I cropped to keep it simple and fun. The new Halloween themed Oddballs are all so much fun, and even more so in a group!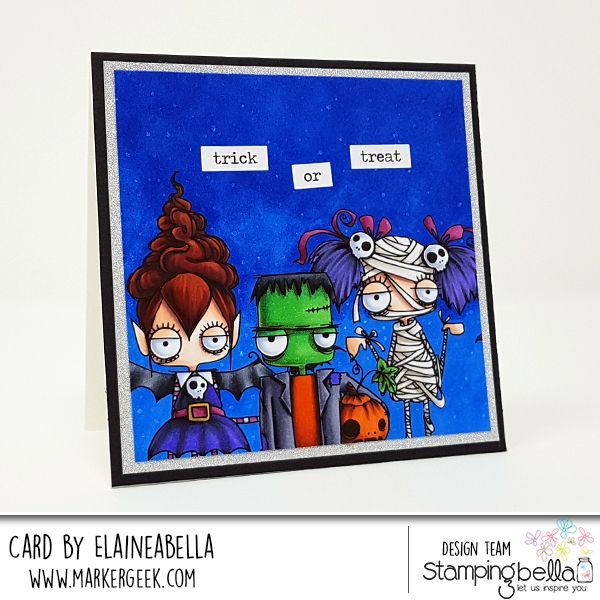 Stamps Used: Oddball Vampire Girl, Oddball Frankenstein and Oddball Mummy Girl
If you're in the UK/Europe you can also find the stamps at Dies to Die For HERE, HERE, and HERE.
I coloured my little scene using Copic Markers on Make it Colour Blending Card, and here's the list for you!
Vampire Girl: Skin E000,E01,E04 Eyes B0000,BV31 Hair E09,R59,RV99 Dress FV2,BV17,BV29 Wings C4,C6,C9
Frankenstein: Skin YG09,G19,YG99 Eyes Boooo,BV31 Hair C4,C6,C9 T-shirt & Pumpkin YR68,E09,E49 Jacket BV23,BV25,BV29
Mummy Girl: Skin E000,E01,E04 Eyes B0000,BV31 Hair FV2,BV17,BV29 Ribbons Rv66,RV69 Bandages W0,W1,W3
Sky: FB2,B29
Thanks for stopping by!
I hope you have enjoyed today's post as much as I enjoyed creating it for you.
Don't want to miss out on future posts? Subscribe to my RSS feed in your favourite blog reader or subscribe via email using the form over in the sidebar.
If you want to keep an eye on what I'm colouring on a daily(ish) basis, follow me over on Instagram where I share frequent peeks at the colouring I'm doing along with other day to day snaps. You can also follow my page on Facebook if you'd like to connect over there.
Please note that in order to assist with the running of this blog I do use affiliate links from time to time and there may be some in this post, denoted with a *. Please see my About page for more information.