Another image from the stack has made it to a card! If you follow me on Instagram you may have seen the coloured image already, as I shared it when I coloured it last summer (that seems simultaneously ages ago and only yesterday, time is a funny old beast).

Stamping Bella Fairy House New Home Card
I actually coloured two versions of this image at the same time, using the same pencils. One version was blended using a solvent, the other was purely pencil. The version on my card is the one where I used Zest-It Pencil Blend* as a solvent to blend the pencil.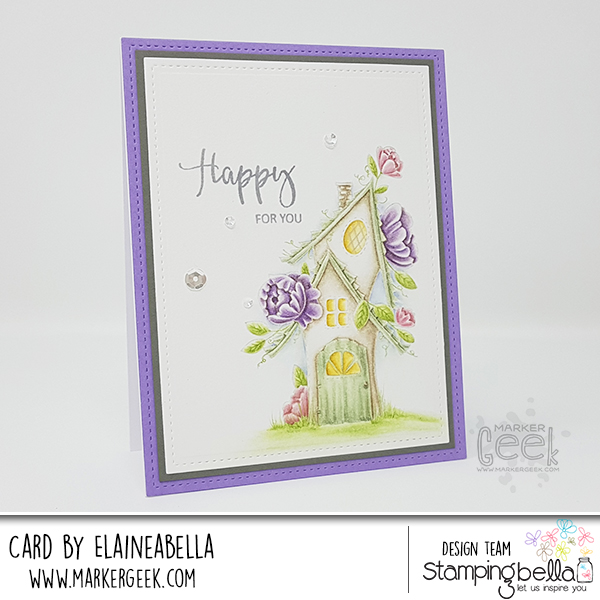 Stamp Used: Stamping Bella Fairy Garden Fairy House
I stamped the image on Bockingford hot press watercolour paper * using InkOn 3 Fadeout ink for the "no line" look. I created my own sentiment using the Concord & 9th Perfectly Penned stamp set.
I love the soft storybook look you get with "No Line" colouring, especially when using coloured pencils.
Derwent ProColour Coloured Pencils
When I coloured this image last summer I was playing and testing a new set of pencils I had purchased: Derwent ProColour *. Being from the UK I do enjoy using homegrown products, and I have long enjoyed many of Derwent's products. I wasn't as enamoured with the Coloursoft pencils as I have been with my Faber-Castell Polychromos or Caran D'ache Luminance, but I was impressed with the ProColour pencils, and I very much enjoyed the colour palette. I found that they blend nicely with Zest-It Pencil Blend*.
Thanks for stopping by!
I hope you have enjoyed today's post as much as I enjoyed creating it for you.
Don't want to miss out on future posts? Subscribe to my RSS feed in your favourite blog reader or subscribe via email using the form over in the sidebar.
If you want to keep an eye on what I'm colouring on a daily(ish) basis, follow me over on Instagram where I share frequent peeks at the colouring I'm doing along with other day to day snaps. You can also follow my page on Facebook if you'd like to connect over there.
Please note that in order to assist with the running of this blog I do use affiliate links from time to time and there may be some in this post, denoted with a *. Please see my About page for more information.