I've got another fun new gnome stamp from Stamping Bella to share today, and some information on a handy colouring aid that might interest you.

Caffeinated Gnome Copic Colouring Video
Watch me colour this stamp in the video below or in HD over on YouTube.
I stamped the image using My Favorite Things Extreme Black hybrid ink on Make it Colour Blending Card before colouring with Copic Markers. I also used a handy colouring aid that you can read about towards the end of this post!
Caffeinated Gnome Card
Here's the card I created! He's a gnome after my own heart – I need a giant vat of tea to start the day (and periodically throughout).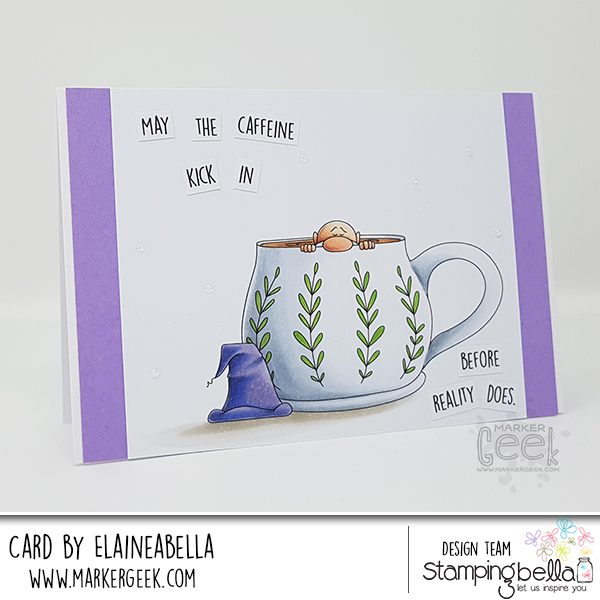 Stamps used: Caffeinated Gnome (the sentiment comes in the set)
NOTE: if you're in the UK/Europe you can find Stamping Bella stamps and dies at Dies to Die For here in the UK, including the latest releases.
A Handy Colouring Tool – LiSSA:
I don't often colour mugs/cups, and I always sit and scratch my head a little before I start. This time I used an extremely handy little tool created by my lovely friend Kat Waskett and her husband Tim! If you haven't checked it out, I can recommend it.

Meet LiSSA – Light Source and Shading Aid. It's a program for Windows/MacOS that helps you to visualise where your shadows might fall depending on the light source, with a library of different character poses and objects to choose from.
If you would like to see how LiSSA works, they have videos on the page linked above or you can check out the LiSSA YouTube channel to see the program in action.
Note: I was generously gifted a copy of LiSSA, but was not required to use it or talk about it, and my opinions as always remain my own!
Thanks for stopping by!
I hope you have enjoyed today's post as much as I enjoyed creating it for you.
Don't want to miss out on future posts? Subscribe to my RSS feed in your favourite blog reader or subscribe via email using the form over in the sidebar.
If you want to keep an eye on what I'm colouring on a daily(ish) basis, follow me over on Instagram where I share frequent peeks at the colouring I'm doing along with other day to day snaps. You can also follow my page on Facebook if you'd like to connect over there.
Please note that in order to assist with the running of this blog I do use affiliate links from time to time and there may be some in this post, denoted with a *. Please see my About page for more information.