Today I'm sharing another card featuring some of the new Sunny Meadow Fair stamps by Stacey Yacula and Purple Onion Designs. I told you I'd been having fun creating scenes!

Purple Onion Designs Sunny Meadow Fair Collection
If you haven't been shopping yet, you have until 15th May 2019 to enjoy a fantastic 30% off when you purchase the entire Sunny Meadow Fair collection HERE. You can of course purchase all the stamps individually too HERE.
I mixed things up a little for today's card, using two of the new stamps together with some I already had in my stash from previous releases! I link to all of the stamps I used below, and further on in the post you will find all the Copic marker info for my scene.
As you can see, I used the lovely Misty the horse stamp again, colouring her differently this time and pairing her with the adorable Wooley the lamb.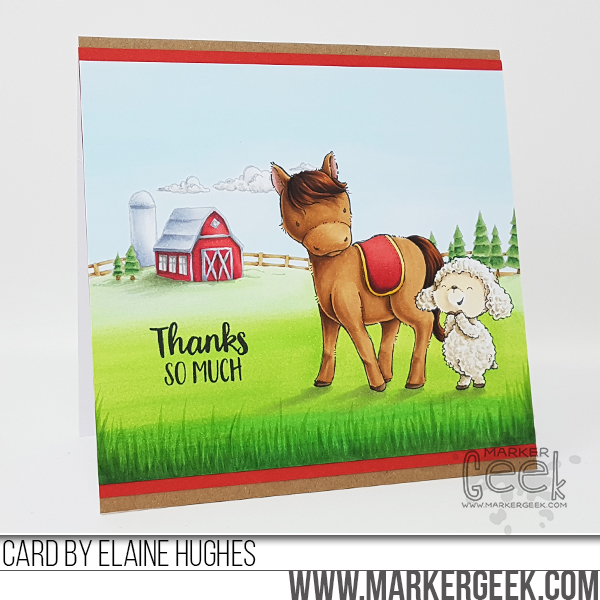 Stamps Used: Misty (horse), Wooley (lamb), Farm Horizon,
The scene was stamped using MFT Extreme Black ink and Archival Shadow Grey ink on my preferred paper for Copic colouring – Make it Colour Blending Card.
NOTE: remember when you are creating a masked and stamped one layer scene, to work from the foreground back. Stamp whatever you want to appear at the front first, then mask and work backwards from there.
Copic Markers Used:
Sky B0000,B000 Clouds T0,T1,T3
Grass YG11,YG13,YG17,G05,BG93 plus G46 & YG17 for the blades at the front
Barn R35,R46,E29, C00,C2,C4, T1, T4 Fence E55,E57
Trees E55,E57,G24,G28 Lamb E50,E53,E70 (face) E40,E43,E44,E47
Horse E34,E35,E57 (body) E04,E44 (ears) E39,E29,E49 (mane/tail) E44,E47 (hooves)
Saddle R27,R46,E29, Y23,Y26,YR24
Thanks for stopping by!
I hope you have enjoyed today's post as much as I enjoyed creating it for you.
Don't want to miss out on future posts? Subscribe to my RSS feed in your favourite blog reader or subscribe via email using the form over in the sidebar.
If you want to keep an eye on what I'm colouring on a daily(ish) basis, follow me over on Instagram where I share frequent peeks at the colouring I'm doing along with other day to day snaps. You can also follow my page on Facebook if you'd like to connect over there.
Please note that in order to assist with the running of this blog I do use affiliate links from time to time and there may be some in this post, denoted with a *. Please see my About page for more information.
The stamps used to create today's card were provided by Purple Onion Designs. As always my opinions remain my own and I only share products that I love.