Who Am I?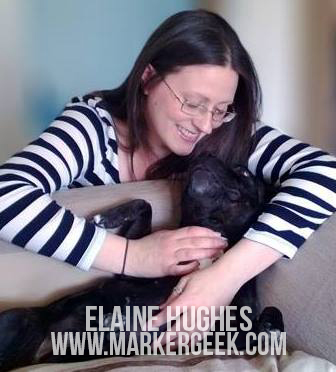 I have been crafting since I can remember. My passion for stamping in particular started in 2007/2008 when I first started playing with character stamps and colouring. Now my real passion is colouring, especially with alcohol based markers. I love to colour character stamps and more besides, and my tastes range from cute to bizarre!
From June 2009 to June 2015 I ran my own online craft store specialising in stamps – Quixotic Paperie. This adventure allowed me to immerse myself in stamping and paper-crafting, and led to the formation of many lasting friendships.
I am now exploring a new chapter and seeing where it takes me, join me for the ride, there will be lots of crafty inspiration along the way!
I live in the South West of England with my partner Paul and our Staffordshire Bull Terrier Taika.
Why Marker Geek?
Simply, I love markers and I am also a bit of a geek! When I'm not colouring I can be found playing video games, reading fantasy fiction and generally geeking out about something. 😉
Disclosure
I participate in affiliate programs for Amazon and JacksonsArt. This means that I receive a commission when products are purchased through links here at this blog. Affiliate links will be marked in posts with a *
Purchasing via these affiliate links does not cost you anything extra, but it does contribute to the running costs of the blog, helping me to continue bringing you fun and inspiring content on a regular basis.
I also occasionally receive free products to work with and I receive stamps from Stamping Bella and SCACD Stamps as I colour their product images. The majority of products I use and post about are ones I have purchased personally.
I never share or review products that I do not personally like or would not personally recommend. My opinions are my own and are not for sale!