Who Am I?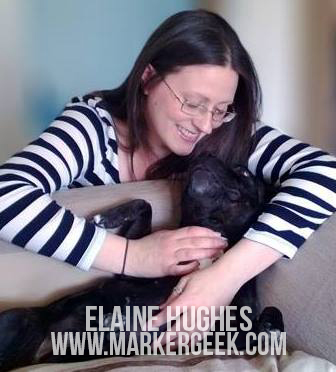 I have been crafting since I can remember. My passion for stamping in particular started in 2007/2008 when I first started playing with character stamps and colouring. Now my real passion is colouring, especially with alcohol based markers. I love to colour character stamps and more besides, and my tastes range from cute to bizarre!
Since 2009 I have been running my own online craft store specialising in stamps – Quixotic Paperie. This adventure has brought with it many fun opportunities and allowed me to immerse myself in stamping and paper-crafting. I stock some of my favourite brands of rubber and clear stamps alongside my favourite paper for colouring with alcohol based markers – Make it Colour Blending Card.
I live in the South West of England with my partner Paul and our Staffordshire Bull Terrier Taika.
Why Marker Geek?
Simply, I love markers and I am also a bit of a geek! When I'm not colouring I can be found playing video games, reading fantasy fiction and generally geeking out about something. 😉
Disclosure
I participate in affiliate programs for Amazon and JacksonsArt. This means that I receive a commission when products are purchased through links here at this blog.
I also occasionally receive free products to work with and I receive stamps from Stamping Bella and SCACD Stamps as I colour their product images. The majority of products I use and post about are ones I have purchased personally.
I never share or review products that I do not personally like or would not personally recommend. My opinions are my own and are not for sale!