Today Susana Loves  Stamps are releasing  more of their unique, fresh and edgy rubber stamps.  The response to the first set of MechAnimals stamps was fantastic, so today we have a new set of MechAnimals along with some fabulous new Far East and floral inspired rubber stamps.
If you're in the US you can find the new rubber stamps over at Susana's Custom Art & Card Design.  International customers can find them at my store Quixotic Paperie.
SCACD Digital  is  also releasing today a fun little gaggle of digital ghoulies that scream fun and  sweetness.  You can  check them out HERE!
We've got a fun hop today to celebrate the new release and show off some inspiration to get you all fired up. 😉  If you've only just joined us, you can pop back to the SCACD Store Blog to get all the details and start the hop, the full hop list will be in the post over there.
You should have hopped over here from my lovely friend MELANIE'S BLOG.
Today I'm showing off one of my favourite stamps from the new release.  When Susana told me that there would be skulls in this release, I was delighted.  1. I love images of skulls 2. I've never actually coloured a large skull image before.  So, I had a lot of fun playing!
The stamp I used on my project today is "Sugar Zen Skull", which is available singly or in a set with the other awesome skull "Sugar Floral Skull".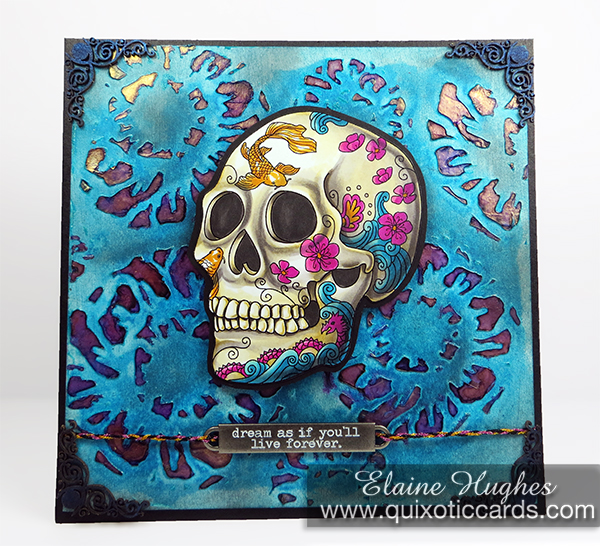 I stamped the image with Memento Tuxedo Black ink on Make it Colour Blending Card and coloured with ShinHan Touch Twin Markers (available in the UK from Jackson's Art Supplies).  I then cut it out and mounted on black card trimmed to leave a narrow border around the edge.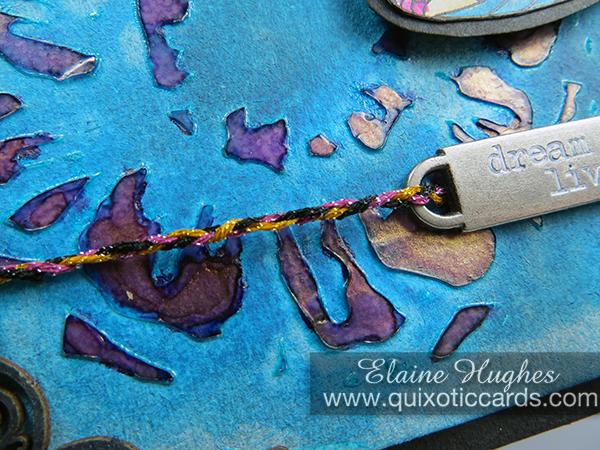 The background was created using a piece of 6″x6″ chipboard, which I covered with gesso, and then applied Embossing Paste through a Prima Stencil.  I then covered it in Dylusions Spray in a gorgeous turquoise, and applied Lindy's Stamp Gang Magicals to the embossing paste design.  I also sponged the chipboard with Distress Ink to make the turquoise a little less bright.  I then added a Tim Holtz word stick thingy (haha), which I attached using some braided sparkly embroidery floss, and mounted the whole thing on a piece of black board.  To the corners I added some Make it Crafty chipboard corners, painted with more Lindy's Stamp Gang Magicals.
That's it from me!  Hope you enjoyed checking out my project, and that you will continue through the hop and enjoy the rest of the inspiration on offer today!
Your next stop on the hop is the lovely DIANNE'S BLOG.  Enjoy!
PS Don't forget to check out the new SCACD Digital releases, there is some superb spooky fun to be had!