The
Quixotic Paperie
design team and friends hope you have been enjoying the Quixotic Paperie 2nd Anniversary celebrations. We have been throwing the spotlight onto some of the fantastic stamp companies available from
Quixotic Paperie
and our last celebratory spotlight for you is:
Whimsy Stamps is owned by
Denise and Kevin Lynn
, with Denise as the papercrafter and Kevin illustrating their Kids Collection based on their two children. As the company has developed they have built up their collection of contributing artists, stamp collections, dies and papers.
At
Quixotic Paperie
I have been thrilled to stock the Whimsy Stamps range from very early on.  Whimsy Stamps were one of the first stamp brands I stocked, and it has been a pleasure working with Denise and her team ever since!
If you're in the US then you can find the stamps at Whimsy Stamps direct!
As part of the celebrations and the spotlight today, we have a

PRIZE GIVEAWAY!
Pop on over to the
Quixotic Inspirations blog
to get all the details and enter the draw to win some fantastic Whimsy Stamps and more!
****************************
On to my card for today!  I've used one of the brilliant
Kenny K images
now available through
Whimsy Stamps
in rubber – SUPER MOM.  She's actually one of my current favourite images, just love her.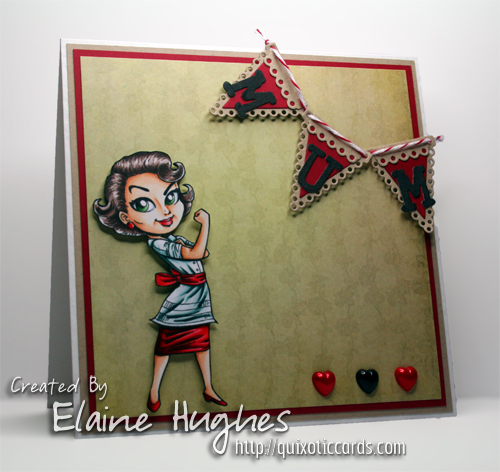 Skin: E0000, E000, E00, E11 Hair: E71, E74, E77, E79 Outfit: BG70, BG72, BG75, R21, R22, R24, R29, E99
Now for some more inspiration!
First, here's a little slideshow of a few of my past Whimsy creations.
NOW hop on over to each of the blogs below to see some fantastic Whimsy Stamps makes!
Thanks for joining us and we hope you are enjoying all the Whimsy Stamps fun.