As I type this post I'm a little excited. Most of our new furniture is being delivered tomorrow morning! My books will once again have a home, and we will actually have a coffee table and bedside tables (we disposed of the old ones during the move). It's the little things…

I have been doing a lot of colouring, but not much card-making as yet (although I plan on doing some very soon). Today's cards were created for Papercraft Essentials magazine earlier this year, and were part of the same set as the one in last week's post.
To create these two cards I used a couple of different Tiddly Inks clear stamp sets (available in my online store Quixotic Paperie): Tiddly Inks My Boys and Tiddly Inks Wild Thang. The images were stamped on my favourite Make it Colour Blending Card and coloured with Copic markers.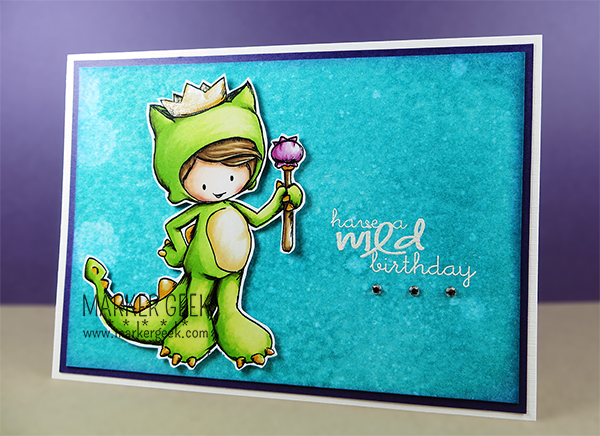 As in my previous post, the backgrounds were created using Distress Inks and water. Nice and simple, especially if you create a large sheet and cut it up, or create lots of smaller sheets at once. The sentiments were stamped directly on to the background and embossed.
That's it! Fingers crossed I'll have something new to share very soon.