Today I'm joining in with a fun hop for the latest Susana Loves Stamps release from SCACD Stamps.  And when I say fun, I mean FUN!  The new release is a continuation of the "Oddly Sweet Curiosities" series, and as with the first two sets, the stamps being released today will definitely make you GRIN!
I'm your first stop on the hop today, so if you're just joining us then you're in the right place!  For a full list of the hop participants, pop on over to the SCACD Store Blog for full info.
I used two of my favourites for today's post, and I love them so much that I created a couple of tags for my personal collection.  Loved colouring these!
Meet "Me & My L'il Buddy" and "Miracles Happen".  Notice anything funny about them? 😉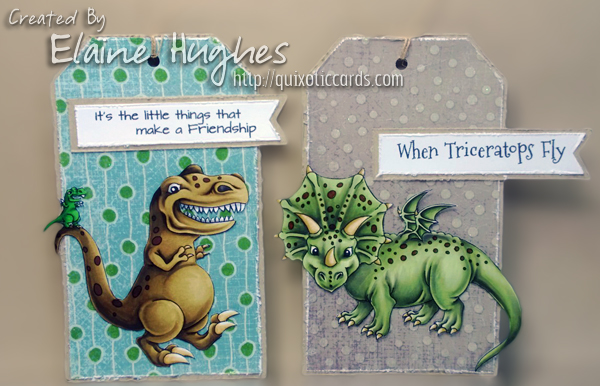 Haha!  They crack me up.  Also, you may not be aware of the fact that I have a "thing" about dinosaurs.  Love dinosaur images.  I'm not sure why.  I was, as most children are, fascinated by dinosaurs as a child, and I simply don't think I ever grew out of it.
I stamped the images with Memento Tuxedo Black ink on Make it Colour Blending Card and coloured with ShinHan Touch Twin Markers.  The designer paper is from an MME 12×12 pad – "Stomp" which I have been hoarding along with other dino themed papers.
Make sure you check out the rest of the hop, there are some very curious little characters on show today, you don't want to miss them, they're sure to bring a smile!
The next stop on the hop is the lovely DIANNE'S BLOG and I happen to know she's showing off two more of my favourites!