In case you hadn't heard, there's a new round of Kraftin' Kimmie Stamps previews going on!  Sadly I'm up to my eyeballs in boxes and junk, desperately trying to get myself reorganised and ship shape, so I haven't been able to join in with all the previews this month, but the Krafty Girls have got plenty of inspiration to go round!  You can check out the details of all the previews for the last couple of days over on the Kraftin' Kimmie Stamps blog.  So far the girls have been showing off the new Trinkets sentiment set and Cheryl Alger's latest Lulu set! 
** The new stamps will be available to order on Sunday 20th May from Kraftin' Kimmie Stamps in Canada or in the UK/Europe from Quixotic Paperie! **
Today I'm joining in to show off the latest fun sets from Emilie Goulet, and they are awesome!  Meet the FLIRTY FAIRIES, who come in two fun filled sets complete with sentiments.
Make sure you visit all the Krafty Girls showing off a peek today (list is on the Kraftin' Kimmie Stamps blog) and leave a comment on each blog, as a couple of lucky commenters will each win a set of Emilie's new fairies!  Full details available on the Kraftin' Kimmie Stamps blog.
On my card I used one of the fairies from Flirty Fairies Set #2.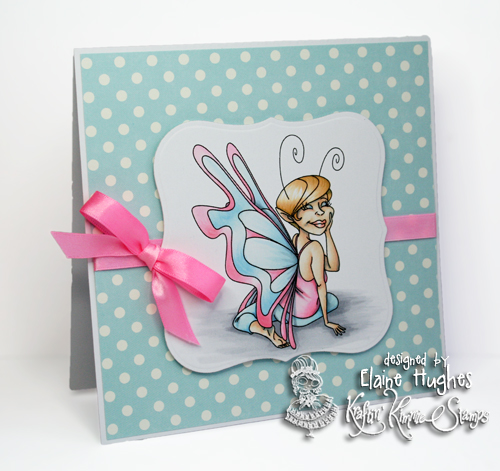 The image was coloured using ShinHan Touch Twin markers on Make it Colour Blending Card and I'm also using this card for the latest Touch Twin Markers & More challenge!  The current challenge is to create a birthday themed card/project featuring ribbon dyed using markers to match the card/project!  Make sure you join in as you could win TWELVE of these awesome markers to play with! 
Colouring ribbon to match your project couldn't be easier, and takes the work out of finding the perfect ribbon!  All I did here was take some satin ribbon and colour it with RP137.  Easy peasy!
Here are the markers I used: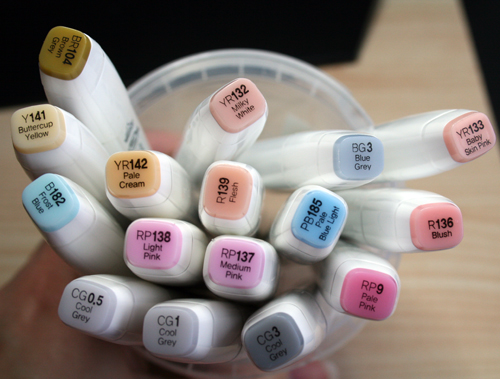 The designer paper is from the Echo Park Dots and Stripes – CandyShope pad.
That's it from me!  I'll be back on Sunday for the release day hop!