All too often, with the constant new releases, gorgeous older stamps and images get forgotten.  I often look back over my photo folders at cards made over the past few years, and it occured to me that it might be nice to share the experience.  So, I'll be scheduling a post each week looking back at previous creations which I feel deserve another turn to shine!
First up is one of my personal favourites, originally blogged on 15th May 2011.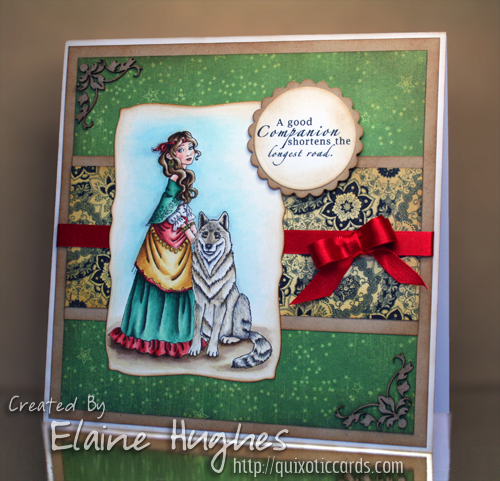 This stamp – The Travelers – captured my heart immediately.  I have a soft spot for all things wolf-related, and romantic gypsy images.  I also love how this card turned out with the beautiful Graphic 45 Le Cirque papers.
I coloured the image with Distress Inks, which was quite a labour of love considering I far prefer markers.  Even so, I was pretty happy with the results.  I do have this image on my list to revisit using markers, when I do it will be interesting to compare!
The sentiment was computer generated, and I thought it fit the image perfectly.  I finished the card off with a couple of my favourite embellishments – a Make it Crafty chipboard corner and a bow tied using the Bow-Easy template.
I hope you've enjoyed this little peek into the archives!