Well, I seem to be managing about a post a week at the moment… I guess it's just the time of year, when everything seems to happen at once.  I know I for one have been completely overloaded lately.  Instead of creating, I've been retreating to bed with my Kindle to escape in a world of fiction.  The good news is, I'm feeling a little better now, so I've got some colouring on the go, and should be sharing the results with you over the next week!
Firstly, I've got a quick card to share, which I created for the latest Touch Twin Markers & More Challenge!  This time it's another colour combo challenge:

The challenge will run from November 28th – December 10th with a winner being announced on December 11th.
This month's challenges are sponsored by Gina K Designs!
One person will be randomly chosen among the entries to win 12 Touch Twin markers!!!
Post a link to our challenge on your blog. Please do not combine this challenge with more than 5 challenges. No back linking. Your project must be new.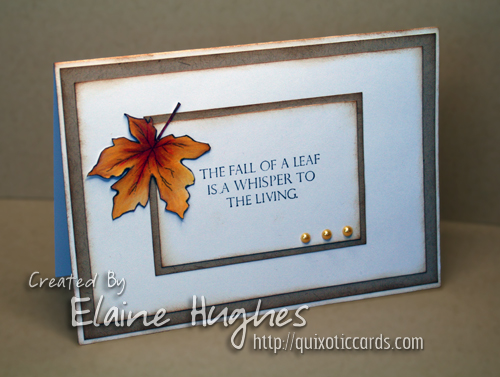 The image was coloured with ShinHan Touch Twin markers on Make it Colour Blending Card.  I layered on to Bazzill Kraft cardstock.
That's it from me!  Fingers crossed I'll be back over the weekend with something else for you to look at.