We are now settling in to the new house quite nicely. There are still bits and pieces left to sort out, but the essentials are all set up, so I'm getting back to "normal" 😉
Our niece has the honour of being the recipient of the very first card made in the new house! It was a perfect excuse to play with one of the stamps from the new Magical Beans Kit from The Greeting Farm, which I have been itching to play with since it arrived just before the move.
You can find the Magical Beans kit and other stamps from The Greeting Farm over at my store Quixotic Paperie. I am based in the UK, but ship worldwide! Plus, if you pop over there between now and midnight on Monday 4th August you could enjoy a fantastic 20% off everything!
Here it is! I decided to make a pop up box card because I love making them and my niece was so impressed with the one I made for her Nanny earlier this year (you can also see another one I made HERE). The Magical Beans images lend themselves pretty well to this as they are a little smaller than the standard TGF size.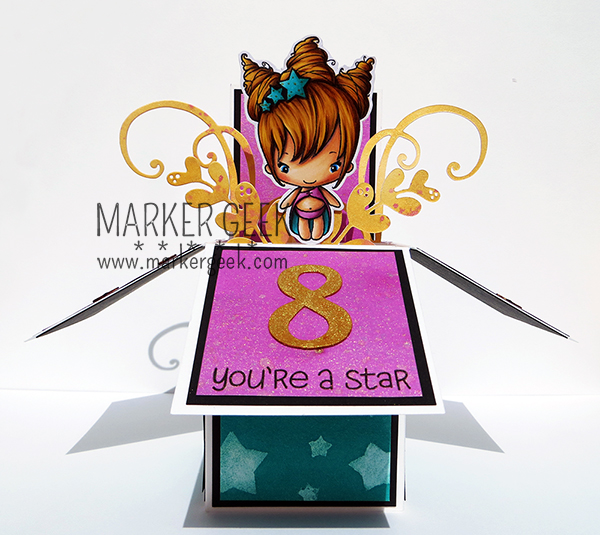 Cute, isn't she?! An absolute breeze to colour too. I always have fun colouring TGF characters. She was coloured with Copic Markers and a little pencil on my favourite Make it Colour Blending Card.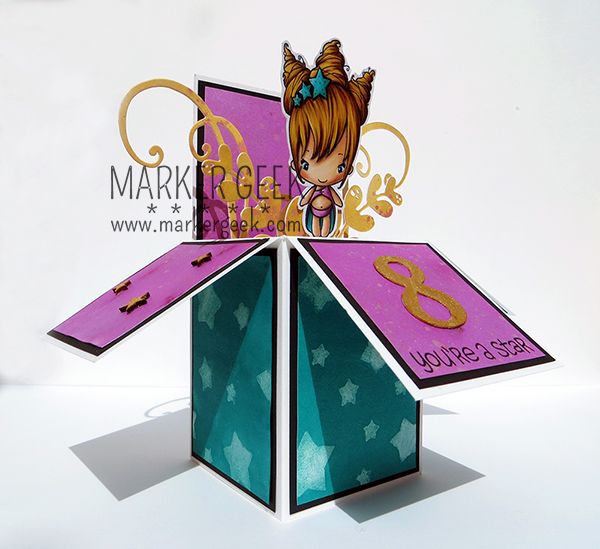 Copics Used:
Skin: E51, E53, E21, V95 Hair: Y32, Y35, E55, E57 Outfit: BG45, BG49, RV63, RV66
I created the papers myself, using a Prima stencil and my favourite Lindy's Stamp Gang Magicals (Tibetan Poppy Teal, Magnolia Magenta Gold, Glory of the Seas Gold) I also used Luminarte Silks in Ice as a resist to create the star paper. Here's a close up of some of the gorgeous sparkle: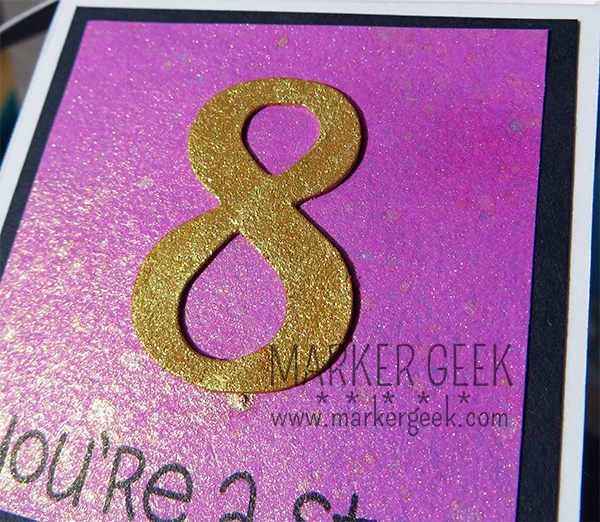 Love it!
The dies used for the flourish and leaf elements are Magnolia DooHickey dies. The sentiment is from a Lawn Fawn stamp set.
If you haven't tried making one yet, you can find instructions on creating a Pop Up Box Card over at Splitcoast Stampers.
I hope you've enjoyed dropping by today. I'll be back again soon with some more crafty fun!