The lack of posts over the past month or so is pretty much a testament to how utterly craptastic a time I've been having!  Nothing life shattering or unbearable has happened, just a series of annoyances.  So, since I don't have anything particularly creative to share with you, here's my tale of woe!  Bear with me and at the end of my post I'll show you something I've been colouring this weekend.
At the end of January I was on the phone to my mother when suddenly I was hit with a dizzy spell and sickness.  Same thing happened the following day, and I ended up spending most of the next few days in bed.  A trip to the doctor revealed that I have viral labyrinthitis. Unfortunately it seems to take a while to go away, and the fact that I haven't been able to rest much over the past two weeks probably hasn't helped.
We went away last weekend for a night, and suffice to say, I must have picked up a stomach bug… So, I was already feeling awful when we arrived home to find that a pipe in the kitchen had burst and flooded the kitchen and living room.  Luckily the damage was limited to the flooring.
Now, there's a problem with the replacement carpet, which with our current run of luck was probably to be expected.  The disruption isn't over and I still feel terrible.
Colouring and crafting has been pretty difficult, but I have managed to do some here and there for upcoming posts and projects.  So, eventually I'll be sharing some crafty pics here again!
Things at Quixotic Paperie are ticking along, which is where most of my energy has been going.  There have been lots of new arrivals over the past couple of weeks:
* NEW 6×6 PADS – MME, GLITZ, ECHO PARK *
* NEW STAMPING BELLA INCL UPTOWN GIRLS *
* SIMPLY GORJUSS RESTOCKS *
* SCACD NEW SYLVIA ZET, ELISABETH BELL & VICTORIA CASE *
* MAKE IT CRAFTY FAIRY STAMPS *
* CRAFT STAMPER MARCH ISSUE *
* KRAFTIN' KIMMIE STAMPS JAN RELEASE *
* NEW SOME ODD GIRL STAMPS RELEASE *
In other news, Kimmie from Kraftin' Kimmie Stamps and artist Annie Rodrigue have some fun coming up for you this week!  You can take part in a live video chat with Annie, where she will be showing how she sketches and inks her stamp designs.  Pretty cool! Check out the details on Facebook.
So, today I had a little "just for me" relaxing colouring time, while sitting in bed.  I coloured up one of Krista's gorgeous Saturated Canary digis (I've also been enjoying reading Krista's blog lately).  I think this one is called Elphaba.  I cropped her and printed her out quite large so I could concentrate on colouring her face and hair.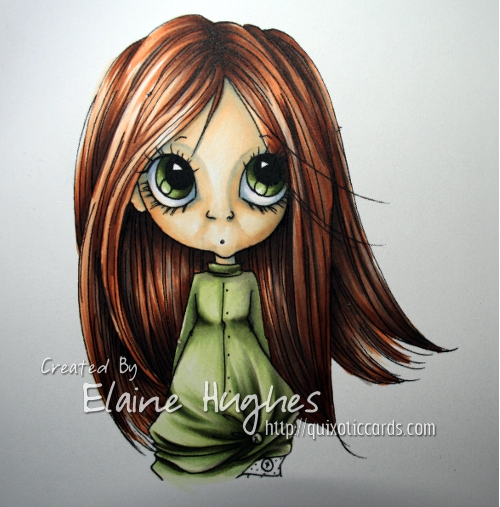 Have to say, colouring all that gorgeous hair was pretty therapeutic. I coloured her with ShinHan Touch Twin markers on Make it Colour Blending Card.  I will post a colour map when I eventually pop her on a card or project.
That's all from me for today.  Hope you are all well and keeping warm in this cold weather!