As promised, I'm getting back to my colouring and card-making now that all the new furniture has been delivered and organised. I'll give you a little tour of my new office/craft space soon, just need a couple of little extras to get it fully organised *cough* Ikea trolley I've been admiring for months *cough*.
For now, here's one I DIDN'T create earlier! The second card to be completed in the new house. Whoo! Several others were completed over the weekend, and I'll be sharing them in due course.
I've been on a bit of a The Greeting Farm (TGF) stamping/colouring binge. They were one of my first character stamp loves, and I have been making some time to play with them because they just make me happy.
I wanted to create a little scene with the adorable mermaid from the TGF Magical Beans kit. My first thought was to use some of the Make it Crafty scene stamps, but my lovely friend Delphine did that so beautifully that I wanted to go for a completely different look. So, I created a blue Distress Ink background over which I stamped the new SCACD Stamps Kelp Forest Background stamp in Archival Ink and painted with Lindy's Stamp Gang Magicals in a few different colours.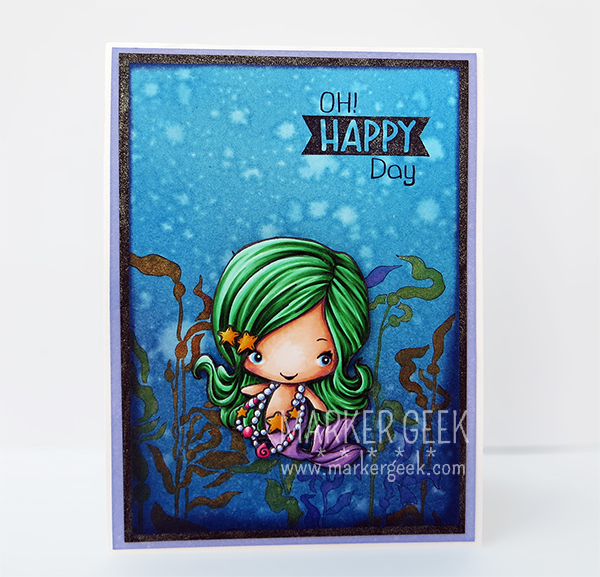 I stamped one of the sentiments from the kit on the background in Archival Ink, and used a Wink of Stella clear glitter pen over the black banner area. I also used the Wink of Stella pen on my black mat layer for additional interest.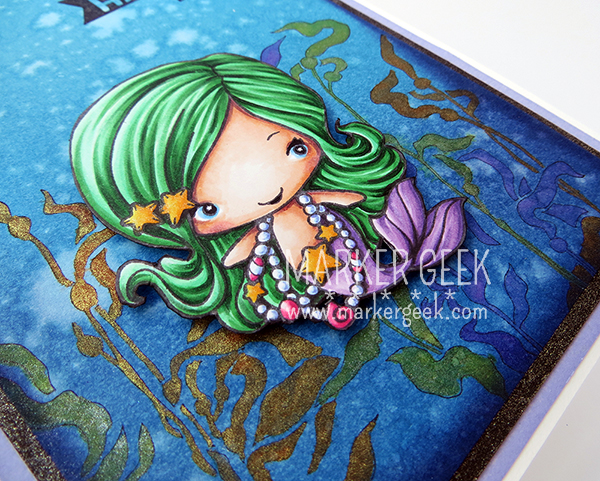 Look at how gorgeous and sparkly the seaweed background is! Love those LSG Magicals!
**********************
If you follow me on Facebook, you may have seen my latest status update. I have decided to try a little personal experiment and am taking a complete break from Facebook during the month of September. I will be blogging here more regularly and will be responding to comments here, so if you would like to stay in touch and keep up to date with what I'm up to, please do stop by! You can also subscribe to the blog feed in your RSS readers, and all the necessary links/info can be found over in the sidebar.
If you are looking to stay up to date with all the latest news from my store Quixotic Paperie, I will be adding news updates to my blog posts from time to time and will be updating the store blog Quixotic Inspirations more regularly with new arrivals and inspiration. You can also subscribe to the store newsletter by visiting this link —> Quixotic Paperie store newsletter sign up form.