It's still beautiful and sunny here in Dorset with a gorgeous blue sky.  I won't complain when I'm walking the dog later, although we could definitely use some rain!  I don't actually remember when it last rained.
Anyway, I hope you're enjoying a wonderful weekend.  So far I've done a lot of "pottering", getting caught up with chores.  Today I'm going to relax with some "just for fun" colouring – the best kind of therapy!
First though, I'd like to share a card with you!  The lovely Beate Johns asked me if I would like to join in with a new challenge this week.  Beate and some friends are starting a fun bi-weekly stamping challenge: Crafty Friends Challenges and the first challenge begins today.
The first challenge is a nice simple one – VINTAGE.  You could interpret this a number of ways in your project.  I went with a vintage themed stamp, one of my favourites actually and it is a testament to how crazy the last six months have been that she is only just making it on to a card!
The stamp featured on my card is The Georgian from the SCACD Stamps Carmen Medlin range (available in the UK at Quixotic Paperie, available in the US at Susana's Custom Art & Card Design).  How gorgeous is she?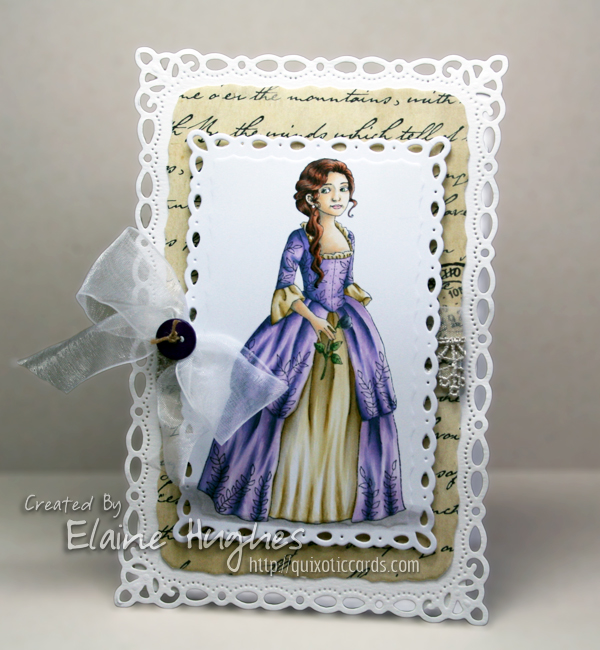 The image was coloured using ShinHan Touch Twin markers on Make it Colour Blending Card.
ShinHan Touch Twin Marker colours used:
Skintones: YR132, YR133, GG1 Hair: BR9, BR96, BR94, WG4 Outfit: P146. PB75, PB76, BG3, BG5, BR109, BR104, CG1, CG4, CG9
I totally CASEd Beate with this card.  It was entirely her fault that I treated myself to some of the latest Spellbinders dies, and so it seemed fitting!  You can check her gorgeous original card HERE.  Thanks for enabling me Beate, I think these may just turn out to be some of my favourite dies.  Love how the image can still be the focus, but the card is also quite decorative.
That's all!  I hope you've enjoyed checking out my card today, and perhaps you'll find a little fun crafty time to play along with the challenge.  You should definitely pop along to the Crafty Friends Challenge Blog and see what the talented team have been up to!