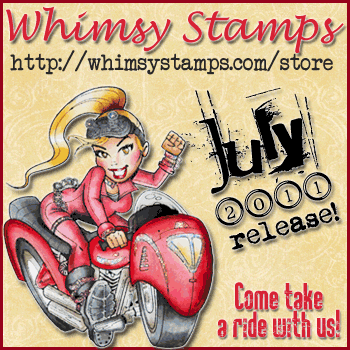 Hello and welcome to the Whimsy Stamps July rubber release BLOG HOP!
The Whimsy July rubber release happened last week on July 13th, but today we are hosting our blog hop to showcase the 9 fabulous new rubber stamps and 2 new Shapeology metal dies now available at Whimsy Stamps! These new goodies are available to buy from the Whimsy Stamps store along with all your Whimsy favorites.  I'm thrilled to be joining the Whimsy DT today as a special guests along with - Deb Routledge, Niki Estes and Zoe McGrath. 
We have a great selection of Whimsy Stamps products on offer, so make sure you check them out!
The Whimsy Stamps DT have been showcasing these fabulous stamps for the past 6 days, so if you missed them be sure to hop on over to the Whimsy Inspirations Blog for some more inspiration!
Here is a full list of the wonderful July release rubber stamps and dies:
5 stamps from Kenny K:
Boogie Down
~
Holla Back Girl
~
Hot Weave
~
Spy Chick
~
Victory Kid
4 stamps/sets from Raindrop Echo Designs: A Touch of Elegance ~ Adventure Mini Postage Stamps ~ Vintage Bottle Labels ~ Vintage Transportation
2 dies/sets from Raindrop Echo Designs: Dress Form Die (coordinates with 'A Touch of Elegance' stamp set) ~ Elegant Flourishes
You should have hopped over here from SIMONNE'S BLOG.
If you have only just joined us, and would like to hop along with us today, please
CLICK HERE
to return to the beginning of the hop at
Lori's blog
.  The hop starts today (Wednesday July 20th at noon EST) and ends on
Wednesday July 27th
at noon EST.
For this hop we have 6 different prize draws! We have one grand prize draw where one lucky hopper will win a selection of new release stamps for hopping along with us. We also have 5 mini candy stops throughout the hop where you can enter to win a new release stamp!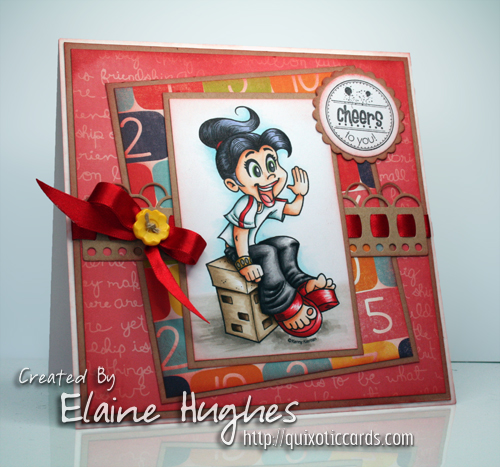 Copics Used:
Skintones: E0000, E000, E00, E11, E93, E95, R21, R22 Hair: C4, C6, C9, B63 Outfit: BG70, BG72, R22, R24, R29, E99, N2, N4, N6, N9 Wall: E42, E43, E44, E47 Ground: W00, W1, W3, W5 Sky: B0000, B000
Thanks so much for stopping by my blog today. The next stop on the hop is the super talented 
ERIN'S blog. Be sure to pop over and see what she has for you today. And then remember to leave comments and enter for your chance to win the prizes on offer along the hop too! 
Thank you so much for hopping with us today and we hope you enjoy all of the creations on show!