It was Paul's sister's 30th Birthday this week, so of course, I made a special card for her.  When I made this one, my colouring abilities had taken a bit of a break (seriously, I tried to colour several images, and they all ended up in the bin), so I went with an elegant design using papers, dies and chipboard!
I made an easel card, as they always look so effective for special cards – they are such a pain to photograph well though, so this definitely looks better when viewed in person!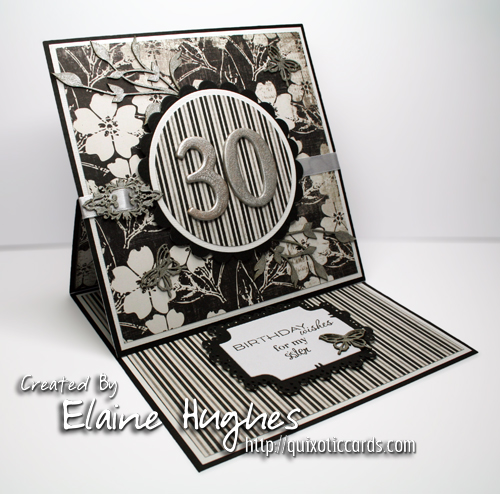 The gorgeous papers are My Mind's Eye Meadowlark.  Unfortunately I don't have this 12×12 pack in stock any more, but there is a gorgeous 6×6 Meadowlark pad.  Love the elegance of the papers.
The numbers are from my stash of chipboard alphas and numbers.  The ribbon slider is from the Make it Crafty Fancy Ribbon sliders pack, and the rest of the chipboard is from the Make it Crafty Butterfly Leaves lasercut chipboard pack.  This is definitely one of my favourite packs!  I painted all of the chipboard with silver acrylic paint, then when dry, covered it with Distress Crackle Paint in Rock Candy (clear).
I created the sentiment on the bottom panel using a mixture of clear stamps.  I LOVE clear stamps for sentiments, they make it so easy to mix 'n match and get everything lined up first time.  I used Waltzing Mouse Stamps "Fancy Phrases" and Flourishes LLC "Fight Like A Girl".  The dies I used are Magnolia DooHickey.
Hope you're having a great weekend so far!