Firstly, thanks to everyone who sent their birthday wishes this week!  I had a lovely birthday and am feeling nicely relaxed.
I also just wanted to make sure you have all seen the birthday special offers over at Quixotic Paperie!  Many items are available at 15% off, and some have been discounted by 30% in honour of my 30th birthday.

  Offers end at midnight on Tuesday 8th November 2011, so pop on over and check it out.  You can even grab some of that fantastic Make it Colour Blending Card at 15% off – perfect time to stock up!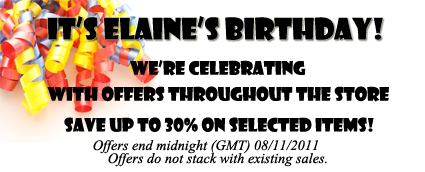 I've been a bit quiet this week, I know, but I'll be back on Monday with something crafty to show you!  In the meantime pop on over to the Quixotic Paperie Store Blog to see what my lovely design team have been up to!