So, it has been a little while!  Huge apologies for my absence – I spent the last few weeks struggling to keep up with work etc while being unwell.  I won't go into any details today, as I have something far more interesting and fun to share, but I will be back with another post over the weekend.
In the meantime, I am thrilled to be joining my old team-mates at SCACD for a fun new release hop!  Today sees the release of some gorgeous new stamps from two popular artists – Sylvia Zet and Victoria Case.
If you're just joining us and would like to start the hop from the beginning (and you really should!), pop on over to the SCACD Store Blog for the full hop list!
You should have hopped over here from the lovely DONALDA'S BLOG.
Unfortunately, because I've been unwell for the last few weeks, I haven't been able to colour and craft (yep, having withdrawal symptoms!).  I've been feeling better over the past few days, so I did manage to colour one of the new Sylvia Zet stamps to share with you, but a finished card was apparently too much to ask!
I think you'll agree though, this image is gorgeous enough all on her own!  Meet ELANIA!
Definitely my favourite (just), and so much fun to colour.
I coloured her with ShinHan Touch Twin markers on Make it Colour Blending Card (colour map below).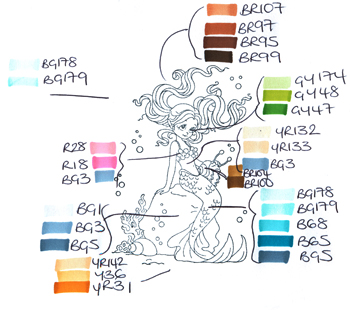 Enough from me!  Time for you to hop along and get an eyeful of the other gorgeous stamps.
Your next stop on the hop is lovely LORI'S BLOG.  Happy hopping and happy shopping!