Ok, don't fall off your chairs,  I have a card to share!  Take a second to get over the shock…
I finally completed the image I started colouring a week or so ago, which you may have caught a glimpse of in an earlier post.  I had a lot of fun colouring this one, colouring all the folds in the dress was extremely therapeutic, I may actually have zoned out completely during the process.
The image I coloured is one of the gorgeous Saturated Canary digis – Wedding Day.  If you can't see the digi in the etsy store when you visit, I think you can contact Krista via etsy and she'll get it added for you.
"Wedding Day" was coloured using ShinHan Touch Twin markers on Make it Colour Blending Card (colour map below).  The pretty paper is from an older Magnolia 12×12 sheet that I have stockpiled in my stash.  I cut the layers using the Spellbinders Grand Nestabilities Labels 23 set and the Spellbinders Nestabilities Curved Rectangles set for the opening to frame the image.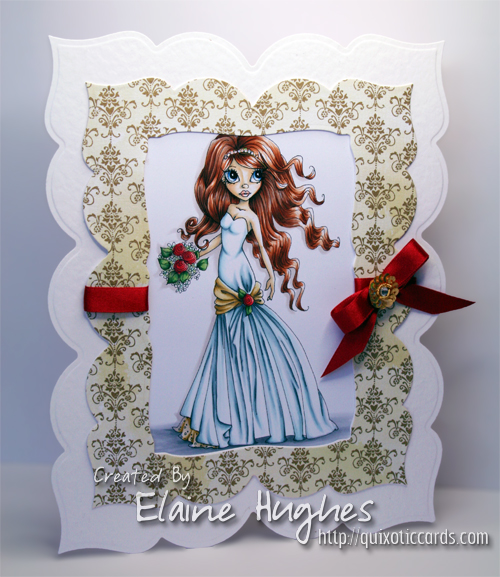 Notes on Colouring:
You may have seen my note in a previous post that my friend Susana at Susana's Custom Art & Card Design is now stocking my favourite – ShinHan Touch Twin Markers – in handy 3 pen combo bundles put together by yours truly.  I used markers from several of the combo sets when colouring this image. I used some of the basic sets, along with the shading sets to create extra depth in the image.  Hopefully the notes here will help you to see how I use the shading sets to enhance the colouring of an image.
Skintones: Caucasian Skin Set PLUS Shading Set #4 Green Grey – I love this combination for skintones.  Most often I used Green Grey 1 and Green Grey 3 in the shadow areas, although occasionally I may use the Blue Greys instead, depending on the look I'm going for.
Eyes: Blue Jeans Set PLUS Shading Set #3 Blue Grey.
Hair: Reddish Brown Set PLUS Shading Set #2 Warm Grey – this has to be one of my favourite hair combinations.  The brown set creates a gorgeous reddish brown, and the Warm Greys really help to add depth.
Dress: I mainly used Shading Set #3 Blue Grey on the dress with a touch of another marker – B182.  When colouring white, remember that white objects have shades of grey and other colours reflected on them, so don't be afraid to get in there with your greys (which greys you would use may depend on the material you're trying to represent, the lighting etc).  You need to leave some white space, but particularly in the creases and in shadow areas you need to create depth, or your image will look flat.
Bouquet: For the roses in her bouquet, I used the Basic Red Set along with WG5 from Shading Set #2 Warm Grey.  The Warm Grey set is a great choice for adding depth to warm tones such as reds.
Ground: I used Shading Set #1 Cool Grey to create the shadow underneath "Wedding Day" to ground her.  Depending on the look you want, you could use any of the shading sets for this purpose, and if you are creating a coloured floor/ground you can use an appropriate shading set to add extra depth e.g. for grass I might use the Leafy Green set with Shading Set #4 Green Grey, layering the Green Grey shades on top of the greens.
UK readers: News regarding Touch Twin Markers in the UK will hopefully be coming in the near future.  I will let you all know as soon as I have any news on this!
Colour Map & Markers Used: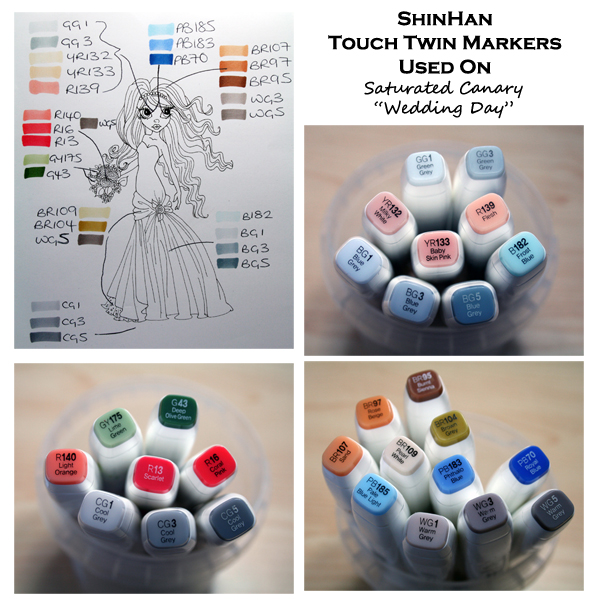 I hope you've enjoyed this post and found some of the notes helpful, I'd love to hear from you if you have!