Over the weekend I came across some digital stamps so gorgeous and so very "me" that I just had to have them!  Wandering by Jami's blog, I discovered Mo's Digital Pencil.   I simply had to play with the images right away.  I particularly love the elf illustrations; they remind me of a favourite book of mine – Jonathan Strange & Mr. Norrell by Susanna Clarke.  You can find Mo's shop here on Etsy.  Her service is second to none – swift and friendly.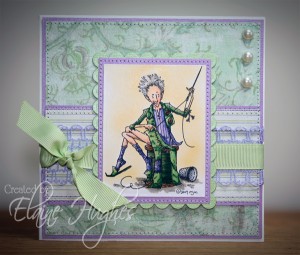 Darn It! is such a fab image, and was great fun to work with.  I printed it out on my Epson R1400, coloured with Copic markers, then masked and airbrushed the background with Copics.  For a full list of the Copics used, see the end of this post.
To add a little extra "magic" I highlighted his hair with Shimmerz Blingz in Pixie Dust.  Quick and easy to do, and so very effective.
The papers I've used are from the delicious My Mind's Eye – Wild Asparagus 8×8 pack.  More stocks of the 6×6 pads will be arriving at Quixotic Paperie soon.  I've also used some of the gorgeous Raffia Lace, available by the roll.
The sketch I used is from this week's Sketch Saturday challenge.  I rotated it and used some 8mm pearls in one corner instead of a sentiment.  The pearls mean this one also works for this week's Stamp With Fun challenge, and the the colour combo for Papertake Weekly!  Three challenges in one, whoo!
Thank you to everyone who has stopped by in the last couple of days.  Your comments are hugely appreciated.  I'm still trying to get caught up with all your blogs – you've been such a busy bunch!
Stamps: Darn It! from Mo's Digital Pencil
CS/DP:  My Mind's Eye - Wild Asparagus 8x8




Ink/Colouring: Memento Tuxedo Black Ink. Copic Markers (see below for list).  Shimmerz - Pixie Dust
Embellishments: 8mm Flat Backed Pearls

.




Misc: Nestabilities. Scor-Pal. Nestabilities. Janome Sew-Mini.
Copic Markers used: Airbrushed Background - Y23
Skintones - E00, E11, R02, R20 Hair - W0, W5
Clothes etc. - G20, G21, G24, G28, G29, BV00, BV04,
E53, E55, E57, C1, C3, C4, C6