This week the Quixotic Paperie DT and I have the first in a series of fun "Spotlight" weeks for you. 
Every so often, we will be taking a week to bring you projects and information about the stamp companies stocked at Quixotic Paperie.  Hopefully we can give you a little inspiration in the process! 
Stick with us for the week and be in with the chance of winning a fab prize at the end – details to follow later in the week.
This first Spotlight Week is "A Week of Whimsy".  Yes, you guessed it, this week we're showing off projects using the fantastic stamp designs from Whimsy Stamps.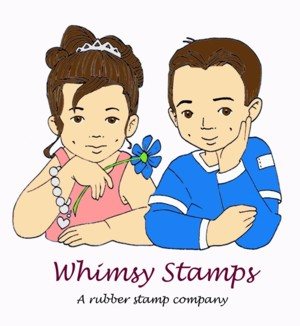 Whimsy Stamps are a family owned art stamp company located in New Hampshire,  US, dedicated to providing crafters around the world with whimsical and fun rubber stamp designs. 
Co-Founder – Denise Lynn – began her stamping career as an independent demonstrator for Stampin' Up!.  As she grew to love stamping more and more, she wanted to be able to bring her ideas to life through rubber stamp designs.  And so, Whimsy Stamps was born!
Denise also runs the fabulous Stamp Something challenge blog together with Whimsy DT member Erin Bailey.
All of the Whimsy Stamps designs are made from deeply etched rubber, mounted on cling cushion foam, ready to be trimmed and used with an acrylic block.  
The stamps come packaged with a laminated index card, for easy storage.
There are two Whimsy Stamps ranges in rubber – Whimsy Kids and Whimsy Animals.  Both lines are filled with character and, well… whimsy!   The Whimsy Animals line in particular is cute with a character filled twist! 
Quixotic Paperie is a UK stockist for the Whimsy Stamp range, and you can find them all under "Whimsy Stamps" at www.quixoticpaperie.co.uk
The first project we have for you has been created by Rowena – CraftyPagan Designs – using one of the Whimsy Kids stamp designs – Pajama Time Emma.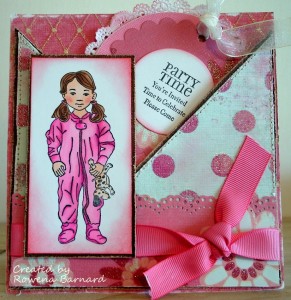 For full details on Rowena's project, please visit her blog – CraftyPagan Designs – and check out this post: "Slumber Party With Whimsy".
I think you will agree that Rowena's project is fabulous (as always).  I'm sure most of you are familiar with her blog by now, but if not, please do take some time to check out her previous posts – you won't be disappointed.
I'll be back tomorrow with a special Whimsy creation of my own to share with you.
Thanks for stopping by!