Nothing to show you today, I'm afraid.  I'm having a bit of a crafty breather this week, and catching up on other things!
There is no Quixotic Challenge this week, as the Altered Anya & Friends challenge is still running over there!  We'd love to see you join in, so pop on over and take a peek!  You have until 9:00am on Wednesday 24th March to get your entry in.
In case you missed the news on Monday, there's a special offer on Belles 'n Whistles stamps over at Quixotic Paperie at the moment.  You can keep up to date with all special offers over on the Quixotic Inspirations blog!
Finally, a little candy for my fabulous followers, as I know I have been neglecting you all lately.  Just not enough hours in the day to fit all the bloghopping in, unfortunately!  If you find any going spare somewhere, let me know!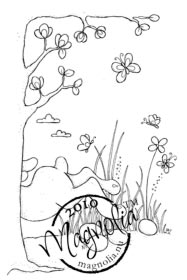 Just leave your details with Mr. Linky below, and this gorgeous Magnolia Stamp could be yours!  If you fancy leaving a comment to say hi as well, I'd love to hear from you!
If you don't have a blog, you are still welcome to enter, just pop the link of this blog in and make sure you leave a comment with your email address so I know how to get in touch!
I will draw a winner at random on Sunday 21st March!