If you loved last week's Kraftin' Kimmie Stamps images from the Spring Kit, you will go nuts for the upcoming release.  I'm not sure how she does it, but Annie just keeps coming out with the best images!
Today I'm showing you "Angry Ballerina", taken from one of Annie's original illustrations available on her website as a print.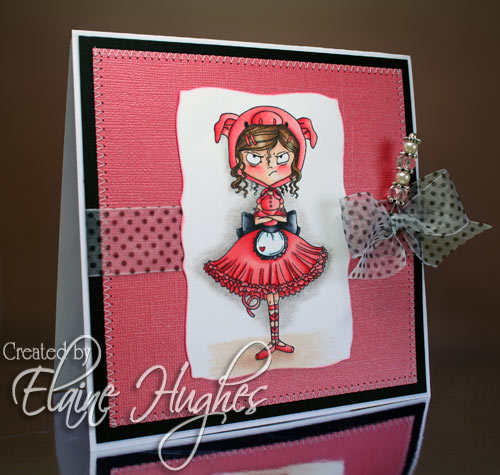 Angry Ballerina will be available on Sunday March 14th, both from the Kraftin' Kimmie Stamps website and from me at Quixotic Paperie!  She comes with two coordinating sentiments.
I've coloured our disgruntled little ballerina (and honestly, I'd be a little cheesed off if I were wearing that costume) with Copic Markers, and Prismacolor Pencils for the background shading.
Skin: E0000, E000, E00, E11, R20, R21, R22 Hair: E31, E34, E35, E57, E59
Outfit: R21, R22, R24, 100, C1, C3, C5, C8 Background: PC1080, PC1054
The bow has been tied using ribbon from my stash and the essential Bow-Easy template (available HERE).  Seriously, the Bow-Easy never seems to be off my desk. Love it!  Definitely a worthwhile crafty investment in my book, given the amount of use it's getting!
The decorative head pin is available HERE, spacers are HERE and beads are HERE.  Love how these beaded pins lend a touch of elegance.
To see more previews of the March release, pop on over to the Kraftin' Kimmie Stamps blog to see what the other Krafty Girls have to show you!
I will be back tomorrow with another fab peek!