Finally, time for the big SCACD release day blog hop! We have all been dying to show you the gorgeous new collection by Elisabeth Bell for SCACD Stamps – Sampler Edition #5, and we know you've been just as eager to see them!
There is a fabulous line up for you today, with the SCACD Design Team, the Quixotic Paperie Design Team and our very special guest – Susanna Boyd of CardoftheWeek and Papercraft Planet! Lots of lovely inspiration!
The new collection is now available over at Susana's Custom Art & Card Design in the Elisabeth Bell section! And for those of you in the UK/Europe, the collection is also available at Quixotic Paperie, in stock and ready to go!
**** You should have hopped over here from SUSANNA BOYD'S BLOG. ****
If you're only just joining us, you may want to start at the beginning over on Suzanne Dean's Blog, as you definitely don't want to miss any of the gorgeous creations! If you get lost at any point, or just want a recap on all the info, pop on over to the SCACD Store Blog!
For my card I have used the gorgeous new carousel horse image – Carousel Dreams.  I have a thing for carousel horses, and this one is no exception!  Absolutely love it, and am thrilled with the way it looks all coloured up.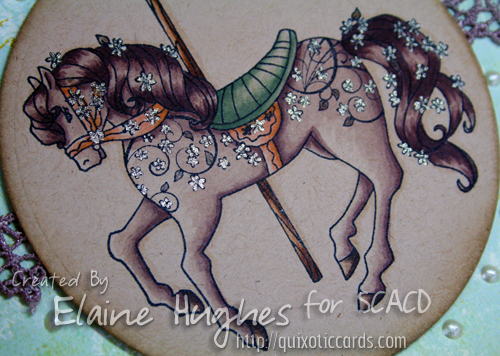 I went with something slightly different for this card.  I think I was channeling Rowena, going for the whole distressed vintage style.  Hopefully I pulled it off!  I stamped the gorgeous Carousel Dreams on a light Kraft cardstock, and then coloured with Copics.  The Kraft cardstock I used is nice and smooth, so colouring went without a hitch, and I love the way the colours turned out.  I think I'll be doing this again in the future!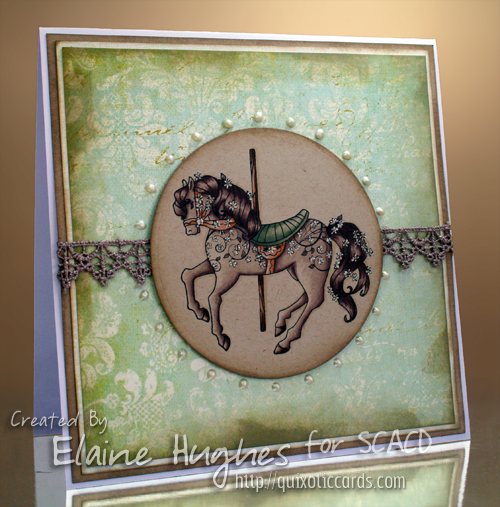 The details on the horse have been accented with a clear glitter pen.  Around the image layer, I have added some pearls using the Viva Decor Pearl Pen in Cream (also available in the UK at Quixotic Paperie).  Love how easy these Viva pens are to use, and how well the pearls turn out!
Papers are Fancy Pants Roadshow available at Quixotic Paperie.  The lace is from Prima and is also available at Quixotic Paperie.  I distressed the edges of the papers with Distress Ink in Frayed Burlap.
**** Thank you for joining us on the hop! Your next stop is KIM DELLOW'S BLOG. ****