Today Kraftin' Kimmie Stamps are releasing their new June images!  As you've seen over the last few day in our Krafty Peeks,  Annie Rodrigue has created the MOST MARVELOUS MERMAIDS!  They are part of the Summer Mermaid Kit which includes SIX stunning Mermaid images, SIX matching accessory stamps (plus a few bonuses) and a coordinating Mermaid Sentiment set with over 20 perfect phrases!!  This kit is only available as a set and only at the Kraftin' Kimmie Shop for a limited time!
We are also THRILLED to bits to introduce our newest artist, Steven Leary!!  He has brought us some super cute images featuring Miles the Mouse!!  He's having lots of fun at the beach this month and we know you'll love him!!  And you'll get to check them all out in today's June release day KRAFTY HOP!!
***** You should have hopped over here from Steven Leary's blog! *****
If you're only just joining us and you want to start from the beginning, just head over to the Kraftin' Kimmie Challenge Blog!  As you hop from blog to blog, be sure to leave a comment at each and every stop because some lucky stampers will win packages of stamps from the new release!!  And when you're done hoppin', be sure to head over to the Kraftin' Kimmie store, because ALL the new images are NOW available!  OH and did we mention?  Each and every order placed this week, will receive a little goodie bag of random bonus accessory stamps in your package! How about that???
For those of you in the UK/Europe, the Miles Mouse stamps are also available as of today from Quixotic Paperie!!
Now for my card!  I'ved used my favourite Miles image  for this one – Sandcastle Miles – such a fun image, and I loved colouring up that sandcastle (I think I'm developing a new "thing" about sandcastles)!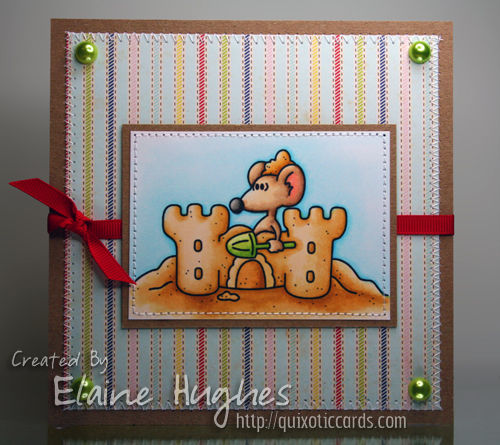 Coloured with Copics, which will come as no surprise to most of you! 
Miles: E50, E53, E57, E93, E95, W1, W3, W5, W8 Spade: YG0000, YG23, YG25 Sand: Y21, Y23, YR21, YR24, E50 Sky: B0000, B00, B02
Papers are once again from The Girl's Paperie "On Holiday" pack available HERE.  Gorgeous 8mm flat back pearls available HERE.
*****That's it from me!  Your next stop on the hop is the ultra-fabulous Paula Williamson!!  Enjoy! *****