A recent new addition to Quixotic Paperie has been the Viva Decor product line. We have all fallen in love, and so, we're having a little blog hop to celebrate!
Joining the Quixotic Paperie Design Team on this hop we have the fantastic Susana's Custom Art & Card Design Design Team! Susana is a good friend of mine and SCACD has become like an international sister store to Quixotic Paperie! We're collaborating on some crafty adventures, and this is hopefully the first of many!
We hope you will join us on this hop and be inspired in ways to use the Viva Decor product range! You will also have the chance to win some fabulous candy – both myself and Susana will be giving away a pack of the most popular Viva Decor Pens (Ice White Pearl Pen, Holographic Glitter Liner and the Clear Gloss Gel Pen).
All you will have to do to win is answer a question at each store blog – 1 entry at each STORE blog per person please! Both blog candy draws will close on 31st July 2010. 

In the UK/Europe you can find Viva Decor products at Quixotic Paperie. If you're in the US/Canada then Susana carries the Viva Decor range at Susana's Custom Art & Card Design.
**** ON TO THE HOP! ****
You should have hopped over here from SUZANNE DEAN'S BLOG. If not, you might want to pop over to the Quixotic Paperie Store Blog and start from the beginning!
*****************************************************************
On my card today, I have used one of the gorgeous Elisabeth Bell for SCACD images.  This one is FASHIONISTA and she is available in the UK/Europe at Quixotic Paperie along with lots of other fab Elisabeth Bell designs  (if you're in the US you will of course find her at SCACD).
Isn't she fab?  And like all of Elisabeth Bell's designs, so much fun to colour!
I decided to go with plain cardstock rather than designer papers, just to show off the gorgeous Viva Decor products!  On the edges of the layers, I used Viva Decor Glitter Liner in Holo-Iridescent.  I also used this on the image, for her hairband and the collar of her top.  I used Viva Decor Glitter Liner in Gold for her jewellery detail and belt buckle.  I keep saying it, but I do love how the fine nozzle lets you apply the glitter liner to small detail areas with ease (Viva Glitter Liner is available in the US at Susana's Custom Art & Card Design).  Check out all that fantastic sparkle.  Love it!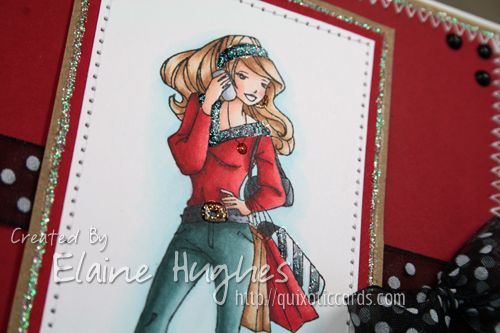 In the corners, I have used the Viva Decor Pearl Pen in Black.  I absolutely love the Viva Pearl Pens, they are so easy to use and they create gorgeous half-pearls.  You can apply straight to your project, or, if you want to, you can use them on wax paper then peel them off and apply with glue just like the flat-back pearls you can buy.  I prefer the first method, especially if I'm creating a design where I want to use lots of half-pearls!  I haven't done so today, but I love to use the Viva Pearl Pens together with the Bazzill Basics Jewel Templates to create gorgeous and cost effective flourishes and swirls!  (Viva Pearl Pens are available in the US at Susana's Custom Art & Card Design).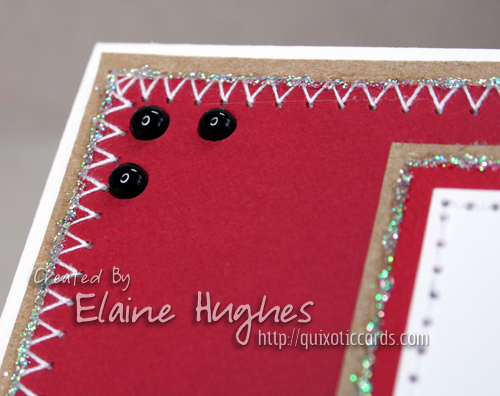 The ribbon is from my stash and I tied the bow using the Bow Easy Bow Tying Template (Bow-Easy is available in the US from Susana's Custom Art & Card Design).
You can find the stamp I used today at Susana's Custom Art & Card Design.
I'm the last stop on the hop, so all there is to do now, if you haven't already, is to pop over to the Store Blogs and answer the question at each, to be in with a chance of winning some Viva Decor candy!!  We hope you've enjoyed our hop, and have found a little inspiration along the way!
Quixotic Paperie Store Blog ***** Susana's Custom Art & Card Design Store Blog
And, just in case you missed any stops on our wonderful hop, here's the full list, from start to finish!
Quixotic Paperie Store Blog
Kim Dellow
Aud Nordheim
Judy Laing
Danni Bindel 
Jacquie Heffner
Kim Costello
Dianne Prewitt
Marti Wills
SCACD Store Blog
Rowena Barnard
Lori Aragon
Kim Gruetzmacher
Carolyn Bounds 
Simonne Clay 
Anki Bargman
Emma Lockley
Suzanne Dean 
Elaine Hughes