I'm still struggling to get through all my projects, so I don't have anything creative to show you today. 
I've had a change around on my desk this week, to make way for a little TV!  Now I can colour and have a film on in the background – perfect!  Now all I need to do is get myself to sit down…  Anyway, since it's WOYWW here's a pic taken after a bit of a tidy up (click it to see a larger version):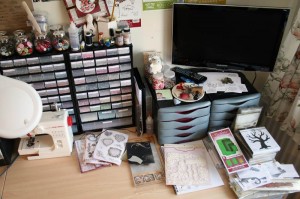 Tidy enough for me to sit down and finish my SCACD make for the hop on Friday!  First, trips to the Post Office and supermarket, unfortunately.  Then I might squeeze in a peek at some of the other crafty spaces on show in this week's WOYWW, I do like a good nose around!
Lots of stuff going on at the moment, and most of it is fun!  Here's the lowdown on the latest happenings: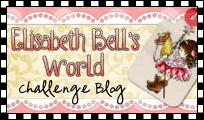 For all you Elisabeth Bell fans, there is a new challenge blog in town!  The fabulously talented Digi Bells Design Team have started a dedicated monthly challenge blog – Elisabeth Bell's World.  Fantastic excuse to get your gorgeous Elisabeth Bell stamps all inky, and if you need some more well, there is a huge selection in the Elisabeth Bell section at Quixotic Paperie!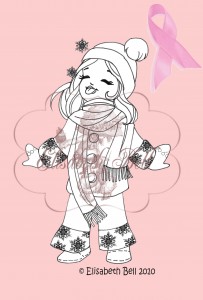 Speaking of Elisabeth Bell stamps, there are some adorable new designs available to preorder at Quixotic Paperie right now!  Belles 'n Whistles have just released the Snowbabies Collection.  Apart from the beautiful images, this is a special collection for a cause.  10% of the proceeds from this special collection will be donated by Belles 'n Whistles to Breast Cancer Research in honour of Jacque Beddingfield and Elise Dinolfo, two fabulously loved Belles 'n Whistles Design Team members recently afflicted with Breast Cancer.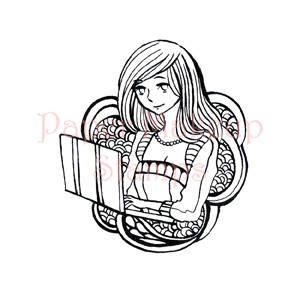 Even more excitement – the Paper Makeup Stamps October Release is now in stock!  Quixotic Paperie is the only place online in the UK to grab these gorgeous stamps, so hop on over and check 'em out!  There have also been some restocks of popular designs.  LOVING the new Monsters and Moody Girls in particular!
And of course, don't forget to get yourself entered in the SCACD New Artist Blog Candy over at both the Quixotic Paperie Store Blog and the SCACD Store Blog.  You have until Thursday evening to get yourself entered to win all of the new release!  Remember – Friday 29th October is the big release day, with an inspiration packed blog hop to boot!
That's all from me, for now, I'll be back with something to share very soon!