The latest monthly challenge has been posted over on the Quixotic Inspirations blog.  This month we're asking to see Thank You projects/cards!  You have until 4th January 2011 to join in, and you can enter as many times as you like.
I used the fabulous Mo Manning for Stamping Bella KISSY stamp available in the UK at Quixotic Paperie.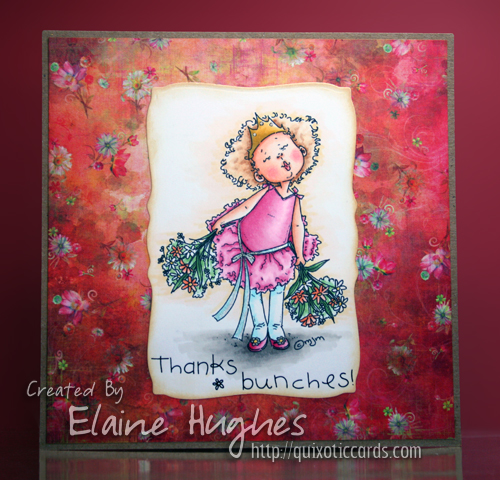 KISSY is also available direct from Stamping Bella or, for those of you more inclined to digi stamp, from Mo's Digital Pencil Store.
Papers are Prima 6×6 Fairy Flora.  The lettering was done using rubons – the stamp does come with a sentiment however, that reads "Love You Bunches".
And, time for a first!  I finally found a video camera I'm happy with, so I'm tentatively creating some colouring videos.  The first ones will show me colouring in the image featured in today's card! 
Finally – a quick couple of pics of our dog enjoying the Christmas tree!  Every year she does tiptoes around underneath the lower branches, tickling herself.  Hopefully I'll manage to catch it on video too, but in the meantime here are some pics!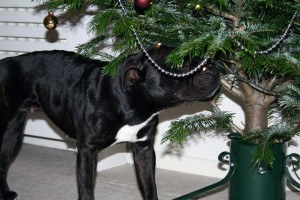 I'll be back tomorrow with my Bellariffic Friday make!