After a great deal of procrastination, I'd like to share my very first video with you!  I've created a Copic colouring video, showing how I colour skintones.
Please note – I am not Copic certified, all colouring techniques have been self-taught through watching videos, checking out step by step tutorials and experimenting on my own.  This video shows the way I colour – nothing more!  I hope it will help some of you experimenting with your own style and techniques!
You will note that there is no sound!  I shot this video before Christmas just after buying a new video camera, and I wasn't quite feeling brave enough to add my ramblings to the mix. 😉  I have provided the Copic markers used at each step, and the video is available in HD so you can hopefully get a good look at my colouring style.
The completed image was used on this card – Thanks Bunches!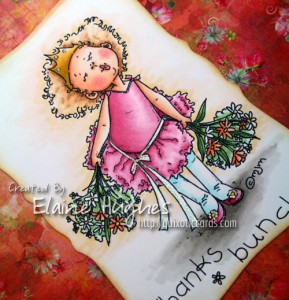 You can find the rubber stamp in the UK at www.quixoticpaperie.co.uk or in Canada direct from www.stampingbella.com.
The digital image is available from Mo Manning's store www.digitalpenciltoo.com.
Cardstock used is Neenah Classic Crest Solar White Super Smooth. 
If you have any questions at all, feel free to ask away in the comments section here and I will do my best to answer them! I hope you enjoy the video and find it useful – if you do, I'd love to hear from you.