Today Kraftin' Kimmie Stamps are releasing their new FEBRUARY images!
This month we are debuting a new line of stamps called Krafty Quotes!!  These sets of stamps are perfect for scrapbooking or for the scrappier stamper….as these stamps can be used as the focal point of your creation, or in addition to your coloured images. There will be a new set each month!
 As you've seen over the last few days in our Krafty Peeks,  Annie Rodrigue is Rockin' and Rollin' this month with FIFTIES themed stamps!!  There are seven images in the complete set and they are Danny, Fanny, Joanie, Judy, Jukebox, Patsy and Richie!! Each one comes with TWO or THREE coordinating sentiment stamps!!  Let's go to the HOP!
Steven Leary is helping us shake off those winter blues by helping us to THINK SPRING!!  Miles and Maisie and some new friends are playing in the springtime sunshine!!!    We have Bicycle Miles, Catching Butterflies, Rainy Day Miles, Springtime Maisie and Springtime Bunnies!!!  Stinkin' CUTE!!
You will get to see most of the new images while you sit back and enjoy our Krafty Hop!  You'll see all the Krafty Girls, along with some very special Krafty Guests along the way!!
You should have hopped over here from

ASELA'S BLOG

!
If you want to start from the beginning, just head over to the Kraftin' Kimmie Challenge Blog!  As you hop from blog to blog, be sure to leave a comment at each and every stop because some lucky stampers will win packages of stamps from the new release!!  
When you're done hoppin', be sure to head over to the Kraftin' Kimmie shop, because ALL the new images are NOW available (with Gimme Kimmie kits for those that have to have it all)!  If you're in the UK/Europe – pop over to Quixotic Paperie where you can also order the new stamps (pre-order – the stamps will be in stock during the next week)!
For my card I have used JUDY and FANNY to create a fun little accordian fold card.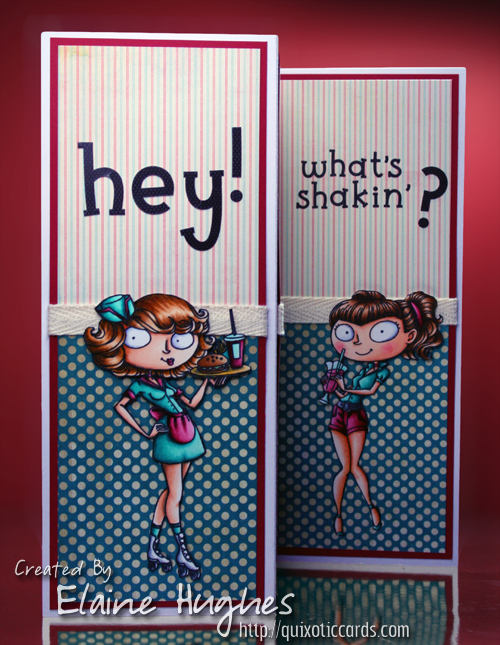 Aren't they fab?  I created my wording using rubons and stickers, but these stamps come with some fab sentiment stamps including one that says "What's shakin'?".  Perfect!
Coloured with Copics:
Skin: E0000, E000, E00, E11, R20, R21 Hair: E50, E53, E35 and E30, E34, E35, E57, E59 Outfits: BG10, BG11, BG13, BG49, R81, R83, R85, R89, T6, C2, C4, C6, C9
Papers are My Mind's Eye Stella & Rose – "Gertie" 6×6 pad.
That's it from me!  Hope you're enjoying the hop.
Your next stop is

TARA'S BLOG

!  I know she's got something fantastic to show you!