Hello and welcome to the Whimsy Stamps February new rubber release BLOG HOP!
We have 16 gorgeous new Whimsy Stamps plus 2 new fantastic dies to show you today! These new goodies are available to buy right now from the Whimsy Stamps store along with all your Whimsy favourites.  I am delighted to have been asked to join in the hop as a guest along with some other fabulous and talented bloggers – Beate Johns, Deb Routledge, Chris Dark, Jacque Beddingfield, Tracy Payne.
The Whimsy Stamps DT have been sneak peeking these fabulous stamps for the past 5 days, so if you missed them be sure to hop on over to the Whimsy Inspirations Blog for some more fabulousness!
Here is a full list of the wonderful new rubber stamps and dies being released today:
5 stamps / stamp sets from Crissy Armstrong
Fragrant Rose
~
Darling Daisies
~
Smell the Flowers
~
Valerie's Spring Rain
~
Fancy Bench
3 stamps from Meljen's Designs
Balloon Mouse ~ Baby Bunny's Bottle ~ Spring Sitter Bunny
4 stamps from Kenny K
Uptown Angel ~ Star ~ Lady Raven ~ Vicki LeeVicious
4 stamps / stamp sets from Raindrop Echo Designs
Postage Stamps ~ Birthday Postage Stamps ~ Balloon Sentiments ~ Birthday Wish List
2 dies
Postage Stamp Die ~ Balloon Set Dies
***********************************************************
UK/EUROPE READERS: All the new stamps and dies are also available at Quixotic Paperie here in the UK!
***********************************************************
If you would like to participate in the hop and you didn't arrive here from MARLEY'S BLOG, please CLICK HERE to return to the beginning of the hop at Chris's blog.
The hop starts today (Wednesday February 9th at noon EST) and ends on Wednesday February 16th at noon EST.
For this hop we have 6 different prize draws! We have not one but TWO grand prize draws, so two lucky hoppers will win a large selection of new release stamps. Grand Prize 1 will be for those who help us advertise the hop, and Grand Prize 2 will be for those who hop along with us. Also, we have 4 mini candy stops throughout the hop where you can enter to win a new release stamp! I'm not going to tell you where they are, so if you haven't found them you'll just have go back to the beginning and start hopping! *wink*
For my blog hop creation I used …… KENNY K – STAR.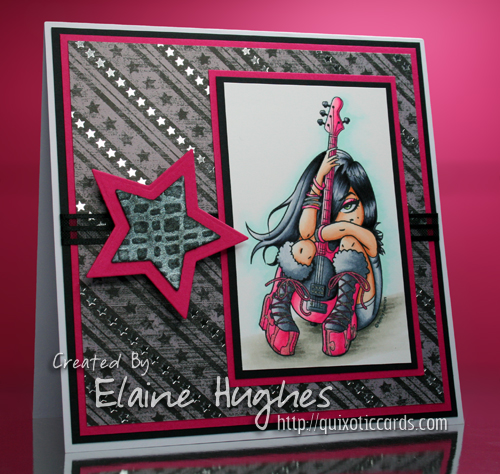 I am loving colouring the Kenny K images at the moment, so much fun!  I have of course, used Copics:
Skin: E0000, E000, E00, E11 Hair: 100, C00, C3, C4, C5, C7, C9 Outfit/Guitar: RV21, RV23, RV25, C00, C3, C5, C7, 100 Background: BG0000, BG10, BG11, W1, W2, W3, W5, W7
I added some sparkle using the Sakura Clear Stardust Glitter pen. Papers are some old DCWV ones – Rockstar I think.  The stars were cut using a Nestabilities set, and the black one is actually grunge paper, embossed using a Tim Holtz folder and inked using Distress Ink – Soot Black, sprayed with Glimmer Mist for sparkle!
Before you go…I am one of today's prize stops!  Yep!  sign up using Mr Linky below and you could win Kenny K's Vikki Lee Vicious stamp (draw will take place on 16th February after Noon EST!
ETA: DRAW HAS NOW CLOSED.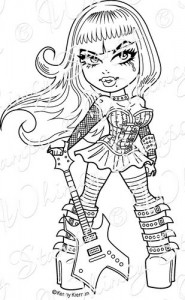 So now it's time for you to continue the hop by hopping on over to

PATRICIA GARCIA'S BLOG

.
Finally, here is a complete blog hop list in hopping order:
Thank you so much for hopping with us today and I hope you enjoy the new releases!