*FOR EARLIER POSTS TODAY PLEASE SCROLL DOWN FURTHER*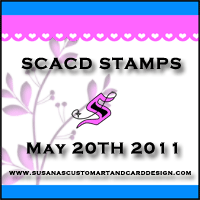 The other day you may have caught my very sneaky preview of the image on today's card.  Well, it's now time to show you the image in all its glory!  I think you'll see why I fell in love as soon as I saw the stamp, and why I fall a little more in love with Carmen Medlin's art with each release!
You can find Carmen Medlin for SCACD Stamps designs IN THE US at Susana's Custom Art & Card Design and IN THE UK/EUROPE at Quixotic Paperie.
The new release will be available in both the US and UK/EUROPE on 20th May 2011.
Meet – THE TRAVELLERS.
As you can see, Zoe was pretty close with her initial feeling (posted in the comments on my WOYWW post) – the mystery element in my sneaky peek was a wolf!  I LOVE wolves.
You will notice, I didn't use my trusty Copics on this one!  I broke right out of my comfort zone and played with DISTRESS INKS!  The image was watercoloured entirely with Distress Inks.
The gorgeous papers are Graphic 45 – Le Cirque.  The bow was tied with my Bow-Easy.  The chipboard corners are from a Make It Crafty Lasercut Chipboard pack.  I created the sentiment myself on the computer – it is a proverb.
The entire release from Carmen has a beautiful elegance to it.  The faces on all the characters are STUNNING, and there is one cutie in there that I dare you to try and resist!  I cannot wait to share them all with you!
Hope you've enjoyed my preview.  Some of the other SCACD designers will be showing off other images from the new collection over the next few days!
CANDY ALERT: Susana is giving away a fantastic prize,  including a full set of the new release, to ONE lucky winner.  To be in with a chance, all you need to do is comment on each of the sneak peek posts over the next few days.  A winner will be drawn at random from the comments left on the designers' blogs.  Full details on the prize can be found over at the SCACD Store Blog.  The winner will be drawn after 7pm PST on May 19th.
OTHER NEWS: The fabulously talented Melanie Holtz of My Paper Blessings has joined the SCACD Design Team!  I love working with Melanie, so it's a pleasure to be on another team with her!  Welcome, Melanie. 🙂