Welcome to the Whimsy Stamps May new rubber release BLOG HOP!
We have 18 fabulous new Whimsy Stamps plus 2 new wonderful dies to show you today! These new goodies are available to buy right now from the Whimsy Stamps store along with all your Whimsy favourites.
I'm thrilled to be among the special guests joining in with the hop today alongside Beate Johns, Deb Routledge, Jacque Beddingfield and Deb Mitchell.
UK/EUROPE READERS
The Whimsy Stamps DT have been sneak peeking these fabulous stamps for the past 5 days, so if you missed them be sure to hop on over to the Whimsy Inspirations Blog for some more inspiration!
Here is a full list of the wonderful new rubber stamps and dies being released today:
5 stamps from Crissy Armstrong
Baby of Mine ~ Mystic ~ Thunder Lizzy ~ Wee Snippet ~ Wee Snippet & Mystic
4 stamps from Meljen's Designs
Birthday Cake Mouse ~ Birthday Cup Mouse ~ Gruffy Little Gnome ~ Happy Little Gnome
4 stamps from Kenny K
Devastatia ~ Hockey Girl ~ Queens Cutie ~ Super Mom
5 stamps/sets from Raindrop Echo Designs
Celebration Pennants ~ Film Strip Sentiments ~ Magical Mini Letter Seals ~ Street Art BG ~ Welcome Baby Sentiments
2 dies/sets from Raindrop Echo Designs
Film Strip Die ~ Welcome Baby Die Set
If you would like to participate in the hop and you didn't arrive here from Debbie Eastman's blog, please CLICK HERE to return to the beginning of the hop at Lori's blog.
The hop starts today (Wednesday May 18th at noon EST) and ends on Wednesday May 25th at noon EST.
For this hop we have 6 different prize draws! We have not one but TWO grand prize draws, so two lucky hoppers will win a large selection of new release stamps. Grand Prize 1 will be for those who help us advertise the hop, and Grand Prize 2 will be for those who hop along with us. We also have 4 mini candy stops throughout the hop where you can enter to win a new release stamp! I'm not going to tell you where they are, so if you haven't found them you'll just have go back to the beginning and start hopping! *wink*
For my blog hop creation I used one of Crissy Armstrong's gorgeous new images – MYSTIC (available in the UK HERE).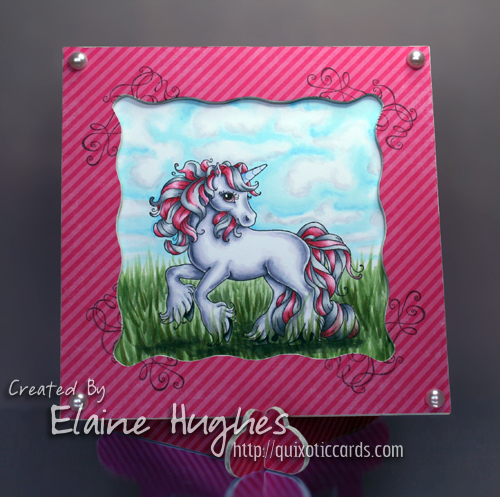 I coloured Mystic and the background using Copic Markers.  And here's the list!
Mystic: BV0000, BV20, BV23, RV000, R81, R83, R85, C00, C1, C2, C4 Grass: YG61, G82, G85, G99, BG93, BG96 Sky: B0000, B00, B02, C00, C1 0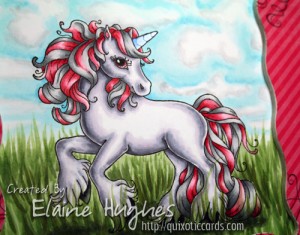 I spent so long colouring the image and background, that I decided to create a keepsake item rather than a card!  I covered a Tando Creative 6×6 frame with stand using Echo Park Dots & Stripes – Candy Shoppe paper, and added some swirls using one of the accessory stamps from the Whimsy Stamps Proud Momma set.  I embellished with some 8mm flatback pearls.
COPIC INFO: To create the sky background I can recommend Annika's tutorial video (which features another fab Crissy Armstrong image from Whimsy Stamps).  For the grass I can recommend Kim Costello's tutorial post.
So now it's time for you to continue the hop by hopping on over to Annika's blog.
Thank you so much for hopping with us today!  Hope you enjoy the new release!
If you're off shopping, don't forget: US readers can find all the stamps and dies at Whimsy Stamps.  UK/Europe readers will find Whimsy Stamps designs at Quixotic Paperie!
Have fun!