Today I've got a card to show you featuring THREE fab digital images from Little Miss Muffet Stamps.  Meet Agent Cupcake!  She's part of the Operation Treehouse collection, along with Agent Bubblegum (click HERE to see my earlier card)
I used three different images – Agent Cupcake, Agent Cupcake Descending, Agent Cupcake Spotted.  I added the text before printing out the images.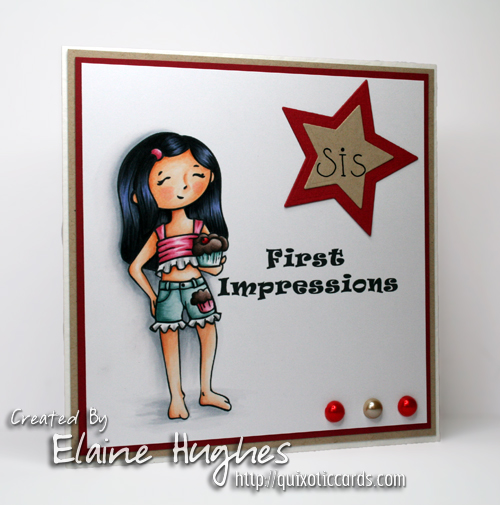 I coloured the images with Copic Markers on Make It Colour Blending Card.  I added the star with "Sis" on the front as this seemed like a fun card for someone to give to their little tomboy sister. 🙂  Apart from that and a few flatback pearls, I kept it simple, didn't think Agent Cupcake would approve of lots of girlie embellishments. 😉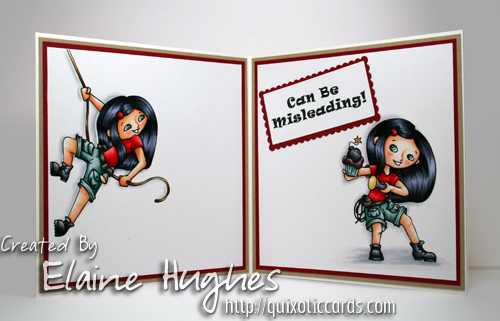 Copics:
Skin: E0000, E000, E00, E11, E95 Hair: C4, C6, C9, B63 Outfits: BG70, BG72, BG75, RV00, R81, R83, R85, R21, R22, R24, R29, E99, C2, C4, C6, C9
*****************************
Quixotic Paperie News:
New stamp sets in stock from Artistic Outpost!  We now have London Underground and Loverly London in stock and shipping.
Whimsy Stamps restocks have arrived!  Popular Kenny K, Crissy Armstrong, Meljen's Designs , Raindrop Echo Sentiments & Shapeology Dies now back in stock.
The August issue of Craft Stamper magazine is also now in stock and includes articles featuring Artistic Outpost, Stempelglede and Whimsy Stamps!