Today's card features one of the fabulous Victoria Case for SCACD Stamps Retro Crew images.  These ladies are proving pretty popular at the moment!  Thankfully they arrived back in stock again this week at Quixotic Paperie, so if you've been waiting, now's your chance!
This lovely lady is Femme Fatale.  Check that dress out!  Phew…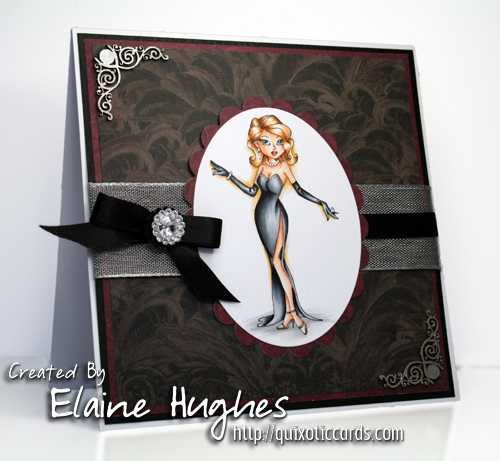 Coloured with Copic Markers on Make it Colour Blending Card.  Designer papers are Prima "Moulin Rouge".  Prima Gem Centre on the bow, which was tied with the Bow-Easy.  The yummy corners are from a Make it Crafty lasercut chipboard pack, and I painted them with silver acrylic paint (they look just as yummy bare).
If you are in the US/Canada then you can find Femme Fatale and friends over at Susana's Custom Art & Card Design along with Prima papers and Make it Crafty chipboard!
** NEWS FROM QUIXOTIC PAPERIE **
Our Summer Sale is currently on, so don't miss out on the bargains!  Lots of gorgeous rubber stamps, dies and papers on offer!
PLUS we've had lots of new stash arriving over the last week!
We now have some fantastic stamps in stock from I Brake For Stamps.  LOVING the Rick St Dennis bears and clowns, which are all available as individuals or in sets.  We also have a selection of the Humorous Seniors – check out Moped Millie, she's got to be my favourite.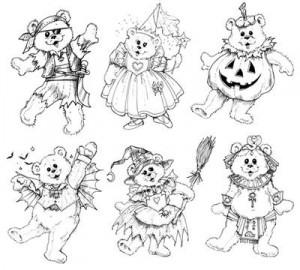 And there's more…
Echo Park Victoria Garden 12×12 collection kit and 6×6 pad * Echo Park Country Drive 6×6 pad * Graphic 45 Magic of Oz in 12×12 and 8×8 pads * Marianne Designs Flower Ribbons * Marianne Designs Dies * Marianne Designs Papers * Sew Easy Fancy Floss, Bakers Twine, Storage Cases and Large Heads * Kraftin' Kimmie Stamps July Release * EZ Mount