You may be aware that I recently added The Octopode Factory to the range of stamps on offer at Quixotic Paperie.  I love Lily's artistic style, and being slightly dark and twisty myself, I just couldn't resist.
This week I'm joining in as a guest for The Octopode Factory challenge blog, where anything goes – you don't have to use an Octopode Factory image, but if you do you will be entered into the monthly prize draw!  This week the theme is "Stripes".
I was going to do my usual and create a card, but I've been feeling an ever increasing urge to climb out of my box and explore a little.  I love making cards, but that's not all I want to do.  So, I grabbed a little Moleskine notebook and a pot of gesso.  Since I keep putting off starting an art journal, I decided that the best way to approach it would be to start small.  A little 9x14cm page isn't as intimidating as the large blank journal I've been staring at for months.  Then, I felt that starting at the beginning seemed to be the hardest thing, so I didn't, I started with the letter "S" somewhere in the middle of the book.  So there!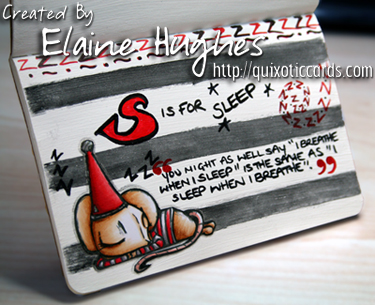 It's not perfect, but then, part of this process is to embrace the imperfections and learn from them.  For me, that's tricky indeed, so I'm a teeny bit surprised to be sharing the pics here!
There's another experimental element to this, and that's in the colouring.  I've been playing with Shinhan Touch Markers recently, so the Octopode Factory Dormouse has been coloured with a combination of Shinhan Touch Twin markers and Copics.  I was pleasantly surprised by how well the Touch Twin R11 marker shade blended with Copic R22.
Markers Used:
Shinhan Touch Twin – R11 (hat and top) R140 (tail) WG3 (top)
Copic – E50, E53, E34, R21, R22, E19
You may not get to see all the pages in my little book, but I'll share a few here and there so you can see the journey.  The most important thing is that I've begun, and that big blank journal might not be so scary after all.
I'm still taking my break, so Quixotic Paperie is still closed to orders.  You can browse and decide what you'd like to order, but I won't be open for business until 8th September, when I'll be back with lots of new stash!