Today is the day we've been waiting for - the gorgeous new Sylvia Zet images are being released by SCACD Stamps!  There are EIGHT fantastic and utterly adorable images, all exclusive to SCACD Stamps in yummy red rubber, and they are all available now.
The stamps are all now available, and if you just have to have them all, you can grab them in discounted sets!
US/Canada: You will find the stamps in the Sylvia Zet section at Susana's Custom Art & Card Design HERE.
UK/Europe: You will find the stamps in the Sylvia Zet section at Quixotic Paperie HERE.
To celebrate, we've got a hop for you today, filled with inspiration from the SCACD and Quixotic Paperie design teams PLUS some special guests!  We hope you will hop along with us as we introduce you to Loli & Shellie, Poppy and the rest of their friends!
I'm your first stop on today's hop, so you're in the right place! If you lose your way while hopping with us today, the complete hop list can be found over on the SCACD Store Blog.
All of the images available today from SCACD Stamps have been illustrated by talented artist Sylvia Zet.  Sylvia's work is full of character and gorgeous detail, and it's evident that she puts a lot of heart into every one of her illustrations.  We are totally thrilled to be welcoming Sylvia to the SCACD Stamps team of artists, and to be sharing her first collection for SCACD Stamps with you!  We hope you enjoy today's hop, and that you love the images as much as we do!
Unfortunately, due to a bit of a mishap, followed by a sad event that I will talk about another day, I don't have a card to show you today, just my coloured image.  Really sorry about that, but still, here's something to see…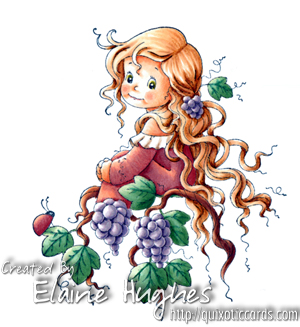 This little cutie is VERITAS.  Gorgeously detailed, and so much fun to colour, as with all of Sylvia's images.
And here's another quick peek at my two preview cards featuring LOLI & SHELLIE and POPPY!
Your next stop on the hop is the wonderful artist herself SYLVIA ZET.   Thank you for stopping by, and I hope you enjoy hopping with us today!