It's day three of the December previews for Kraftin' Kimmie Stamps!  Today the Krafty Girls have SIX incredible ALICE IN WONDERLAND images to share with you today along with a set of WONDERLAND SENTIMENTS with awesome quotes from the book!  Check out all the MAD creations in today's round of previews in combination with this week's challenge, which just happens to be a super awesome SKETCH from the lovely MICHELE.  We really hope you are inspired by this fun sketch and join us for some fun.
To check out the rest of the peeks today and the challenge sketch, pop on over to the Kraftin' Kimmie Stamps challenge blog!
The new stamps will be available to order on Sunday December 11th from Kraftin' Kimmie Stamps in Canada or in the UK/Europe from Quixotic Paperie!
On my card today I've used the fantastic WHITE RABBIT and coordinating sentiment.  Love this image!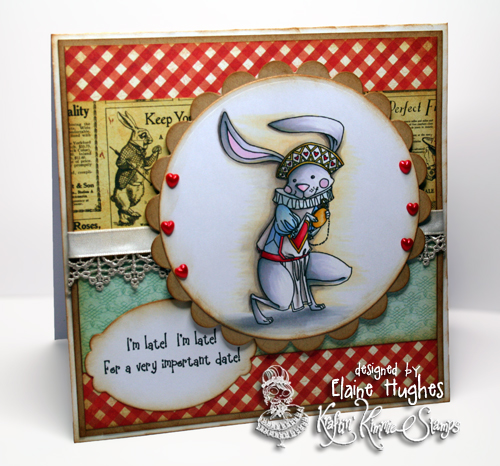 The image was coloured with ShinHan Touch Twin markers on Make it Colour Blending Card (colour map below).  The designer papers are a mix of My Mind's Eye Lost & Found Breeze and Posy, and Graphic45 Halloween in Wonderland.
That's all from me, I hope you enjoy checking out the previews!  Join us again tomorrow for the big release day hop!