Time for the Kraftin' Kimmie Stamps release day hop!  After all the fantastic previews during the past few days, I hope you're as excited as we are!
The new stamps are now available to order from Kraftin' Kimmie Stamps in Canada or in the UK/Europe from Quixotic Paperie (after 9am UK time)!
Over the last few days in our Krafty Peeks, we have shared lots of FUN new stamps for you to get inky with.  There's something for everyone! There is a fun new SET introducing a sweet little character by Cheryl Alger for the little ladies in your life – LOVELY LULU!  We also have TWO fantastic sets of purrrr-fect images from Emilie Goulet called KITTY KAPERS 1 and KITTY KAPERS 2.  And of course we have an amazing new collection of six GORGEOUS GODDESS stamps from Annie Rodrigue, along with a coordinating set of GODDESS SENTIMENTS!
You will get to see most of the new images today as you sit back and enjoy our JANUARY Krafty Hop!  If you want to start from the beginning, just head over to the Kraftin' Kimmie Stamps blog.   As you hop from blog to blog, be sure to leave a comment at each and every stop because some lucky stampers will win packages of these incredible stampsfrom the new release.  And when you're done hoppin', be sure to head over to the Kraftin' Kimmie shop, because ALL the new images are NOW available!
You should have hopped on over here from the fantastically talented MELANIE'S BLOG.
I mentioned earlier in the week that despite being very firmly in the dog lover camp, I simply couldn't resist Emilie's adorable KITTY KAPERS images.  Well, here's another one – my favourite actually, it just makes me smile!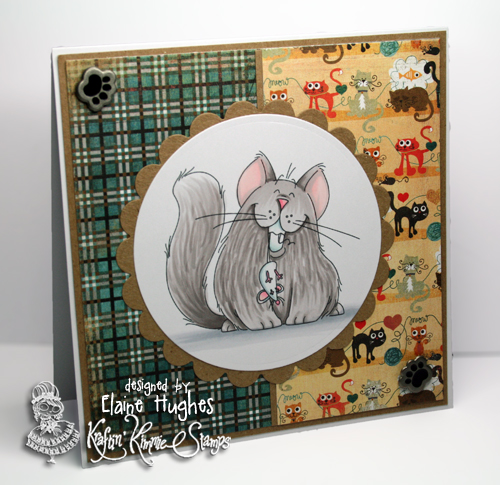 The image was coloured using ShinHan Touch Twin markers on Make it Colour Blending Card (colour map below).  The papers are Basic Grey Max & Whiskers, and you may notice I've followed the layout and used the same adorable cat paper as my card earlier in the week.  If it ain't broke, don't fix it – right?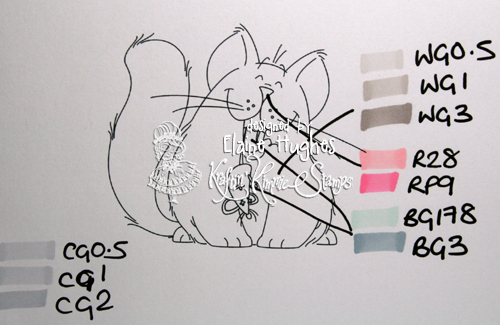 That's all from me!  Enjoy the rest of the fantastic hop and happy shopping.

  Your next stop is the fabulously krafty AMANDA'S BLOG.